Most people wouldn't put the words "love" and "taxes" together in the same sentence, but for Lucille Nordgren at Aptos Personalized Tax Service, they are complementary.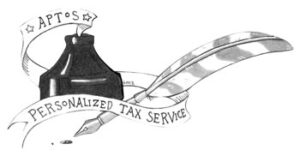 Preparing a tax return is a personal experience; requiring not only financial data but information about births and deaths; divorces and separations; properties bought and sold; relocation; insurance and stocks.
The year was 1972, and Lucille Nordgren was an elementary school teacher, reading specialist and a mother of five to Dave 18, Jon, 14, Julie 11, Scott ,8 and Ken, 7. (As well as busy founding the first computer lab—procuring free Apple computers for students—and instrumental in setting up the first Life Lab for the Live Oak School District).
Despite this full schedule, Lucille wanted to learn how to prepare her own taxes. To get it right, both she and her husband Ardean took a class with Watsonville Adult Education and received certification. (At the time, Ardeen was working to found the EH—now Special Education program—at the Pajaro Valley Unified School District.)
By the end of the semester, not only was Lucille able to do her own taxes—but the instructor, impressed with her assimilation of knowledge and "can-do" attitude, gave her five clients and Ardean was given five clients as well.
Lucille didn't have an office, so she drove to each of these clients' houses—from Aptos to Los Gatos to Salinas—to pick up necessary documents and then after the taxes were completed (at her home) she would once again drive to the client's residence with the end product.
As well as working on taxes on nights and weekends, she kept her teaching position. (She attributes her ability to hold down two jobs and raise a family of five to her husband's willingness to split all domestic and childrearing duties.)
At the end of that first tax season, she had 50 clients and within two years, almost 200.
At the end of the second year, her husband decided to leave the tax business and devote his time to teaching and salmon-fishing.
Over the next 20 or so years, Lucille established Personalized Tax Service, with the business multiplying to over 100 clients. She retained the "pick-up and delivery" model: after visiting a client's home and receiving the necessary information, she calculated the tax at her home.
The finished tax was hand-written on government forms; then she would send the rough draft by courier to southern California for data entry. It was returned by courier the next day and Lucille then delivered it to her clients.
This was a time-consuming process; however, with improvements in tax preparation software and the availability of personal computers and printers, Lucille was eventually able to discontinue courier service and do in-home production (using Drake software for personal computers). After retiring from teaching in 1988, she took on tax preparation full time.
The year 2009 brought the next chapter to Personalized Tax Service, when Lucille's oldest son, David Nordgren, retired from a long career as a computer programmer with FedEx. After completing a comprehensive tax course, along with his daughter, Sally (Ginger), Dave and Sally joined Lucille, working from Lucille's home.
In fall 2011, Lucille purchased Aptos Tax, acquiring a completely equipped office and tripling the clientele (now adding the word "Aptos" to "Personalized Tax Service"). In 2012, Lucille's daughter, Julie, who had experience in credit collections and real estate underwriting, decided to work with her mom, brother and niece. In 2019, Lucille's youngest son, Kenneth, joined the team, working on weekends.
Lucille claims that the best part of completing a tax return is getting her clients a generous refund. She, and the rest of the team, carefully considers each client's individual scenario to get them that return. Her clients are "like family" and over the years she has helped their children and now grandchildren file their taxes. In 50 years of taxes, she's had one audit.
Her clients offer these testimonials: "Working with Aptos Tax Service has been a dream come true. I felt respected and cared for throughout the filing process. They made it easy and simple! I will be a returning costumer."
And this: "The Aptos Tax Team is awesome! The service is superlative! They always save me money on my taxes, even when I procrastinate until the last minute before the filing deadline! I can't say enough great things about Aptos Personalized Tax Service!"
•••
Julie (Nordgren) Fant specializes in corporate and trust taxes and is also available for bookkeeping and accounting and life coaching services. She's at 831-688-1137.
David Nordgren is a freelance musician, playing bass in several local bands. He's at [email protected]
Kenneth Nordgren works at UC Santa Cruz in the IT Department and is a trombonist, guitarist and singer.
Sally Nordgren lives in Idaho and is currently working at Schweitzer Engineering Laboratories. She is a graphic and tattoo artist and a musician.
Lucille Nordgren continues to prepare taxes from her home office; quilting, cooking, and caring for children and dogs in her spare time.
•••
Aptos Personalized Tax Service is a family partnership providing quality affordable tax returns for individuals and businesses in Santa Cruz County since 1972.
Aptos Personalized Tax Service specializes in Federal and all States Income Tax Return preparation and filing and year-round bookkeeping services. The business welcome a diverse clientele and serve many local educators, artists and musicians from Aptos and throughout Santa Cruz County and beyond.
•••
Located in the Creekside Office Building, 9057-B Soquel Drive, Suite GG, Aptos CA 95003. Phone: 831-688-1137; Email: [email protected]; Website: Aptostax.net.
(Visited 76 times, 1 visits today)