By Mindy Pedlar
You may not have heard much about it, but you should absolutely see Candide, now playing at the Cabrillo Crocker Theater.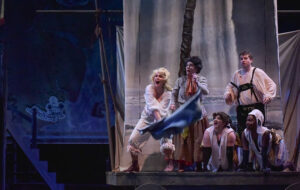 The audiences are thrilled by the production and show their appreciation with standing ovations.
I expected the music to be magnificent, and it is, but I had no idea the show was so funny!
Director Gary John La Rosa makes the most of every humorous moment with his creative staging. He includes the talented, well-choreographed ensemble frequently making them a vital part of telling Candide's tale. The immense and wonderful set by Scenic Designer Skip Epperson and Technical Director Marcel Tjioe, allows the cast, bedecked in fabulous costumes by Maria Crush, to travel the world taking the audience along for a wildly entertaining ride.
As for the music, there's a reason critics refer to the score of Candide as Leonard Bernstein's masterpiece.
Musical Director/Conductor Cheryl Anderson says the score is challenging with "mixed meters, themes intertwined with one another, whimsical shifts of mood and lights. His tempi can be dizzying while still illuminating each character and idea. Every rehearsal, I come away grateful that he was so brilliant. He, like Beethoven, doesn't really consider limitations but instead allows his passionate ideas to carve their own paths."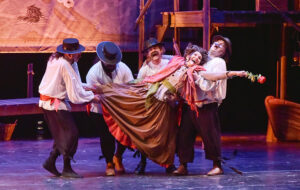 The vocal prowess of this cast is up to the quality Bernstein's score demands.
Michael Stahl plays the innocent, trusting Candide. His gorgeous voice will melt your heart. Lori Schulman perfectly plays his love interest, Cunegonde, her beautiful coloratura voice soaring. Schulman's rendition of "Glitter and be Gay" is one of the show's highlights.
Tenor Jorge Torrez shines as Cunegonde's brother Maximilian with his beautiful voice and excellent comedic skills. Jordan Best rounds out the quartet with her lovely vocals and portrayal of the sweetly lusty Paquette.
Local favorite Lizz Hodgin Weihrauch, first seen as a Pink Lady in Cabrillo Stage's 1983 production of Grease, returns with vocal panache to play the Old Lady.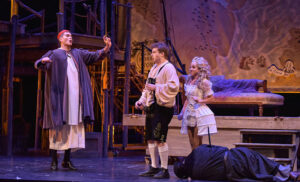 Mention must also be made of Joshua Porter's fine baritone as the Governor and Thomas Webb's portrayal of many characters including, my favorite, the Grand Inquisitor.
This remarkable cast is led by versatile Equity actor Curt Denham playing Voltaire, Sage, Host and Candide's dear leader, Dr. Pangloss. Denham leads with clarity, charm and impeccable comedic timing.
Candide is rarely performed as it's a huge undertaking requiring the highest caliber of singers, musicians and actors. Cabrillo Stage has brought all the elements together in this production, which is perhaps their finest to date.
•••
Now playing through Aug. 14, don't miss your opportunity to see this remarkable show! Tickets available at cabrillostage.com or call the Box office 831- 479-6154 Thursday-Saturday noon-6 p.m.
(Visited 73 times, 1 visits today)