On Dec. 14, Yes Greenway delivered more than 16,000 petition signatures for the Greenway initiative to the Santa Cruz County Clerk, who has 30 business days to certify the signatures.
"We are confident that we have collected sufficient signatures to qualify the Greenway Initiative for the June 7, 2022 ballot," said Ellen Martinez, one of the original signatories to the "Notice of Intent to Circulate Petition" filed in July. "Over 170 volunteers for YES Greenway gathered signatures in all five supervisorial districts. The reception from voters was overwhelmingly positive and enthusiastic."
Yes Greenway says the number of signatures collected for a voter-generated initiative is the largest in Santa Cruz County history.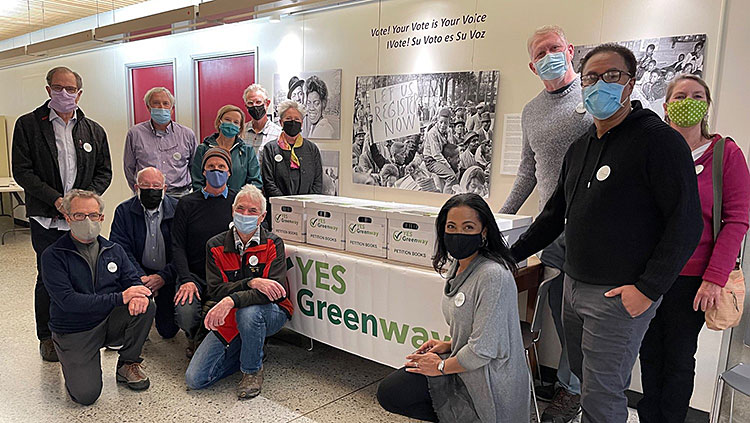 Greenway proposes to amend Santa Cruz County's General Plan to support building an interim trail down the center of the rail-bed of the unused rail corridor from the San Lorenzo Bridge in Santa Cruz to Lee Road in Watsonville.
The "Greenway is to include two lanes for wheeled traffic on a paved path and an adjacent walkway for people on foot.
Once completed, it could be used for commuting, active transportation, and recreation by people on foot, on bicycles, in wheelchairs, riding e-bikes or skateboards.
Yes Greenway said future use of the corridor for rail would be preserved through railbanking, a Federal program that allows an existing rail corridor to be used as a trail and leaves certain infrastructure, including bridges and trestles, for future rail use.
The current Roaring Camp tourist railroad from Felton to the Santa Cruz Boardwalk would be protected and preserved, as would the existing freight service in Watsonville, according to Greenway.
Funds to create new paths are available through Measure D, the sales tax dedicated to county transportation passed by voters in 2016, which means no new taxes are needed, according to Greenway.
"It's time to give voters the opportunity to state their opinion on what to build on the unused rail corridor," said Rowland Rebele, a resident of Dominican Oaks in Santa Cruz. "Having collected signatures myself, I know that the majority of voters want a resolution of this issue and prefer that the corridor be used now for active transportation."
The Greenway would become part of an integrated transportation system in Santa Cruz County, one long advocated by Greenway proponents and detailed at: sccgreenway.org/transportation-position.
The plan calls for improving Metro, ParaCruz and Lift Line, making investments in long-neglected bicycle and pedestrian infrastructure, bus-on-shoulder on oft-congested Hwy. 1, and active signal control on Soquel Drive to improve the movement of people throughout the county. Such investments are all funded through existing Measure D funds and require no new taxes.
"We have an existing bus system that has suffered in ridership due to the pandemic, route cuts and budget issues," said Buzz Anderson, 4th generation Santa Cruz County resident who lives in Live Oak. "We need to invest in Metro, ParaCruz and Lift Line. We need to improve Hwy. 1. And we need to build the most beautiful and safe active transportation corridor in the world. That's a vision worth getting behind."
The Santa Cruz County Counsel's impartial Title and Summary of the Greenway Initiative and the full text of the proposed Amendment to the General Plan are online at www.yes-greenway.org.
YES Greenway is registered with the state Fair Political Practices Commission.
The Greenway announcement sparked an immediate response from the No Way Greenway campaign's public relations consultant.
The statement attributed to No Way Greenway representative Matt Farrell, former city of Santa Cruz parking manager, said, "The highly deceptive and elitist Greenway Initiative is a giant lump of coal dumped on Santa Cruz County just in time for the holidays."
He contends Greenway's trail proposal does nothing to address climate change or unclog Hwy. 1. He contends the initiative takes away rail commuting for working people.
He also contends the initiative would delay trail construction for years, and violate the California Coastal Act "because it will forever reduce public access options for those who don't live near the coast."
Farrell predicted, "Should this measure qualify for the ballot, it will be defeated by a very strong coalition of volunteers, leaders, respected organizations and local businesses."
•••
To learn more about NO WAY Greenway, which is registered with the Fair Political Practices Commission, see www.nowaygreenway.org, www.facebook.com/nowaygreenway2022, www.instagram.com/nowaygreenway2022/, or www.twitter.com/nowaygreenway.
(Visited 164 times, 1 visits today)