By Kieran Kelly
Local officials officially broke ground on the Sgt. Damon Gutzwiller Memorial at Willowbrook County Park in Aptos on Nov. 14.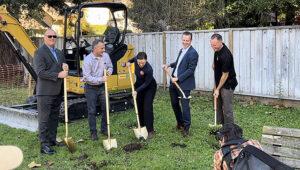 Santa Cruz County Sheriff Jim Hart, Supervisor Zach Friend, County Parks Director Jeff Gaffney, County Park Friends Executive Director Mariah Roberts, and Deputy Sheriff's Association President Ethan Rumrill plunged shovels into the park's damp soil in a symbolic beginning to the memorial's construction.
Sgt. Gutzwiller was killed in the line of duty on June 6, 2020, leaving behind his wife and two young children. His many friends and colleagues wanted to find a way to honor the legacy of his service and the idea for a memorial in his neighborhood park was born.
"Today's groundbreaking allows for hope and a new story to be told," said Supervisor Friend. "As we create a reimagined park filled with sounds of cross-generational happiness from children and adults playing, and reflection, love and community support at the new memorial site."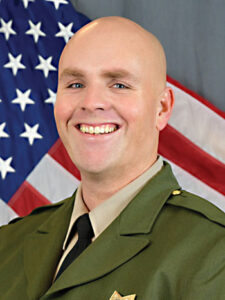 Damon Gutzwiller grew up in Santa Cruz County and owned his first home in the Willowbrook neighborhood. He could often be found there playing with his beloved dog, Shasta. A dedicated public servant, Damon served with the Santa Cruz County Sheriff's Office for 14 years where he rose to the rank of sergeant.
The memorial will include a circular seating area near the park's pedestrian bridge that will face towards a new flagpole near the park's southern entrance. The site will feature a plaque honoring Sgt. Gutzwiller.
"This memorial will serve as a place of beauty, peace and reflection for so many of us here in the community and will ensure that Sgt. Gutzwiller's sacrifice, and that of his family and all who knew him, will be forever remembered and honored," said Rumrill, speaking as president of the Santa Cruz Deputy Sheriff's Association.
In a nod to Sgt. Gutzwiller's young children, the park's playground will also be updated with new features to make the park more accessible for children.
The park's existing sport courts were also recently resurfaced and re-striped for tennis and pickleball enthusiasts.
"We are excited to start construction on the renovations to Willowbrook County Park in honor of Sgt. Gutzwiller," said Jeff Gaffney, county parks director. "I am truly amazed at how so many community members came together to make this first phase of the project start so quickly."
In an effort to finish the final stretch of fundraising for the project, the Strock family of Aptos will donate a dollar for every dollar donated in December up to $16,000.
•••
For info, visit: www.classy.org/campaign/willowbrook-memorial-1-1-matching-challenge/c451688
(Visited 35 times, 1 visits today)