By Jondi Gumz
The hotly contested Measure D, the Greenway initiative focusing on a trail — not rail — on the rail line owned by the Santa Cruz Regional Transportation Commission gathered only 28% yes votes out of 44,000 votes as of Tuesday.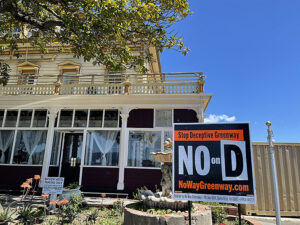 Another 72% voted no, indicating status quo, which is to build a path to walk and bike next to the rail line — thus preserving the largely unused rail line, where trains must move at low speeds due to the poor condition of the track.
"Measure D revealed a deep passion in our community for a future that includes both a trail and rail," according to a statement from No on D. "This community wants a transportation system that is greener, more equitable and more efficient than what we have now."
Measure D proponents released this statement: "The voters have spoken. The Measure D amendment to the county's General Plan did not pass. The baton is now passed to the Regional Transportation Commission to move forward with a plan that is fundable, doable in a reasonable period of time, and provides the transit and environmental benefits we all want."
They added, "We are proud of the positive campaign run by the YES Greenway team and look forward to a beneficial use of the rail corridor for all residents."
A proposed city of Santa Cruz sales tax increase is very close with 49.16% yes and 50.84% no. This could be cautionary for Capitola officials who are considering a tax on second homes for the Nov. 8 ballot.
Two proposed county taxes are ahead and likely to pass, though not all the votes are counted.
On Measure B, to raise the county tax on hotel, motel and other commercial rentals from 11% to 14%, about 69% voted yes. This tax is expected to generate another $2.3 million a year.
On Measure C, a 25-cent county tax on disposable cups is ahead, with 69% voting yes. This could take effect as soon as July 1. Half the money is to be kept by the county, with the rest saying with the seller. The county's share is projected to be $700,000.
In the county supervisor's races, where incumbents declined to run again, Jimmy Dutra leads, in the 4th District (Watsonville) with Felipe Hernandez in second, and Ed Acosta trailing.
In the 3rd District (Santa Cruz), Shebrah Kalantari-Johnson leads, with Justin Cummings in second and Ami Chen Mills trailing.
If the leader fails to secure more than 50% plus one, the top two candidates go to a run-off Nov. 8.
In other county races, incumbents had no challengers and will serve another term. They include Sheriff Jim Hart, County Clerk Tricia Webber, Superintendent of Schools Faris Sabbah, Auditor-Controller-Treasurer-Tax Collector Edith Driscoll and District Attorney Jeff Rosell.
Sheri Thomas in her first bid for assessor-recorder replacing Sean Saldavia, garnered more than 30,000 votes. She was unopposed.
Turnout was low.
Gov Gavin Newsom, who got about 56% of the vote in unofficial results, will face Republican State Sen. Brian Dahle, a famer in Lassen County, who got 17%.
(Visited 51 times, 1 visits today)