By Teresa Hidalgo Dance
Axel Garcia and Marge Valencia love riding the bus. As a Cabrillo College student, Axel gets to ride the Santa Cruz Metro bus for free as do students of UCSC. About 70 percent of the bus line's passengers are enrolled in college.
Marge, who declines to drive on Highway 17, frequently rides Metro's accommodating Highway-17 Express to San Jose.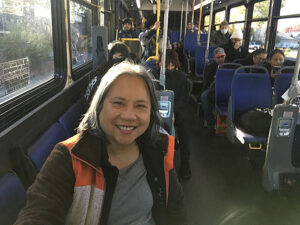 Without Santa Cruz's bus line, people like Axel and Marge would have to rely on the kindness of car drivers, adding to the congestion on the streets and emissions in the air.
Instead, the Metro gives them a measure of independence and the opportunity to let the bus line do what it's good at–transporting people to their destinations. Indeed, through the years, the Metro has proven itself to be what it should be — a convenience serving the person on the street and in addition, the environment.
The Metro offers amenities to all its passengers, who mostly range in age from 18 to 60. There is the handy Metro Splash Pass, a mobile ticketing app that can be downloaded on the App Store and Google Play.
Danielle Glagola, Metro's marketing and communications director, describes it as a "cash-free, contactless mobile ticketing solution that allows riders to purchase fares and display tickets on their smartphone device anytime, anywhere." For information, visit www.scmtd.com/apps
I used the Splash Pass recently and found it much easier than digging through my pockets for loose change. If someone doesn't have the exact amount of money to pay for the bus, the Splash Pass spares them the trouble of, say, borrowing change from their friends or worse, missing their ride.
The Metro also makes sure riders can stay up to date with route alerts and schedule changes with their "Schedule-by-Stop Alerts" or "Subscriber Alerts" online at scmtd.com or by visiting http://scmtd.com/en/riders-guide/stay-connected.
Riders needing to plan their trips, can view real-time route information on bus arrivals and pinpoint where their bus is by using www.cruzmetro.com. Axel considers this feature extremely helpful. Without it, he would need to simply wait for the bus and wonder how long he would need to do so.
There's also the popular perk–Metro's complimentary Wi-Fi on board the Highway-17 Express buses that run from the Metro Center in downtown Santa Cruz to Diridon Station in San Jose. The Wi-Fi connection helps keep Marge in contact with family members in San Jose.
The Metro goes a step further. As Axel has experienced, riding the Metro is light on the pocketbook!
The bus line offers several free fare days per year such as on National Transit Equity Day and CA Clean Air Day. Glagola revealed that this year, free fares were also offered for the first two weeks of the Metro's fall 2022 service. Year round, the METRO offers free fares daily on their Watsonville Circulator Route that leaves from the Metro's Watsonville Transit Center and operates through Watsonville.
There are many reasons to choose public transport over private vehicles. All over Santa Cruz, the Metro is transporting people like Axel, Marge, and me, those of us who are looking to reach places in a sure and ready fashion.
The bus allows people to arrive at medical appointments and social visits, run errands, get to work and visit many outdoor recreation areas such as beaches and parks without hassle. On a bus, riders are spared from dealing with traffic themselves. They can sit back and relax on their way to a destination. Also, gas prices are almost prohibitively high for many car drivers!
The Metro encourages people to ride its buses and not take cars for other good reasons.
"Using public transit is a great way to reduce emissions in our community," said Glagola. "Just switching out one to two rides per week of personal vehicle use to public transit makes a difference in reducing emissions and congestion on our roads." With more zero emission buses being purchased by the Metro, emission savings have been increasing. Right now, the Metro runs four electric buses in the county and will receive five more electric buses in 2023 for its Highway-17 Express service.
The Metro, it is good to note, is nearly reaching pre-pandemic levels of ridership.
Glagola said, "Thanks to our colleges moving back to in-person classes we have seen a significant incline in our ridership since the start of the pandemic. In fact, due to college classes starting this fall, Metro ridership actually reached 91% of pre-pandemic levels for September."
However, many more people still work remotely and no longer need to commute to their jobs. "We haven't seen a large amount of commuters returning to Metro services," Glagola observed.
The Santa Cruz Metro bus service could become as popular as riding a personal vehicle rather than as a transport of last resort.
For more information about this great Santa Cruz service, visit www.scmtd.com.
Photos
Wrier Teresa Hildalgo Dance rides the Metro. • Photo Credit: Jondi Gumz
(Visited 102 times, 1 visits today)