By Betty Sanchez
Santa Cruz County's resident ballet company Santa Cruz Ballet Theatre presents The Nutcracker at the Civic Auditorium this December 10 and 11. This year marks the 20th of this holiday classic at the Civic with live orchestra.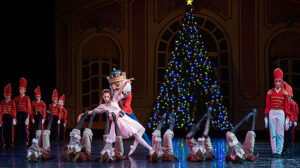 SCBT moved its production to the Civic in 2002, building a custom stage using local union stage hands, and setting the musicians in front, which allows the audience to see them in action during the performance.
SCBT continues to bring 52 professional musicians under the baton of Music Director Pamela Martin to local audiences. 2022 also marks Maestro Martin's 10th year conducting the orchestra.
The SCBT Nutcracker features over 50 local dancers, including its own talented pre-professional company dancers. These dancers train rigorously all year long, honing their physical and artistic skills for many hours every week. Many of these young dancers will move on to a career in the field, as the graduate ratio of professional dancers produced by SCBT is incredibly high.
Come see the professional dancers of the future in their formative years! The official academy of SCBT includes choreography training in its syllabus, and this year, three of the company dancers are creating the Arabian divertissement for the stage. With the right training and mentoring, these young people can do it all!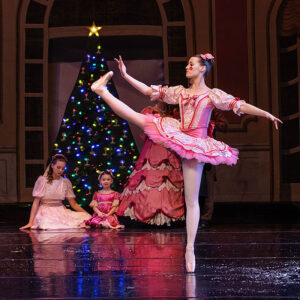 Guest artist and SCBT alumna Melody Mennite will star as the Sugar Plum Fairy. Melody is the quintessential Sugar Plum and has danced this role with SCBT many times, including as a 16-year-old student as well as guest artist.
A principal dancer with Houston Ballet, Melody relishes the ability to return to her hometown and reconnect with local audiences as well as the dancers who might just follow in her footsteps.
SCBT recommends viewers be at least 3 years of age, as the performance of the Nutcracker is approximately 2 hours long with one twenty-minute intermission. Concessions will be sold, but must be enjoyed in the lobby or outside, not brought into the auditorium.
Downtown Santa Cruz sports a vibrant restaurant scene, so please enjoy your favorite eatery or find a new one to try for a snack or meal before or after the performance.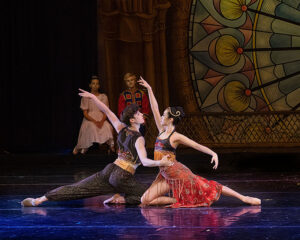 SCBT is following local and federal health protocol and recommends that every person entering the Civic Auditorium be vaccinated. It is also highly recommended that audience members wear masks while indoors. Should health and safety recommendations change by December, SCBT will follow local and federal mandates.
To lessen the spread of all communicable diseases and illnesses, please do NOT come to the performance if you are feeling sick or have any Covid or flu-like symptoms. SantaCruzTickets.com offers a new ticket insurance policy which can be added to any ticket purchase.
•••
The Nutcracker presented by Santa Cruz Ballet Theatre with live orchestra at the Santa Cruz Civic Auditorium. Performances are Saturday, December 10 and Sunday, December 11 at 1 pm and 4:30 pm each day. Tickets can be purchased at SantaCruzTickets.com or by calling (831) 420-5260 or at the Civic Box Office, 307 Church Street.
(Visited 102 times, 1 visits today)