By June Smith
During the COVID-19 pandemic, many Santa Cruzans succumbed to the habit of ordering their favorite comfort foods by delivery or to go especially pizza. Upper Crust Pizza & Pasta claimed a place at the top of the list.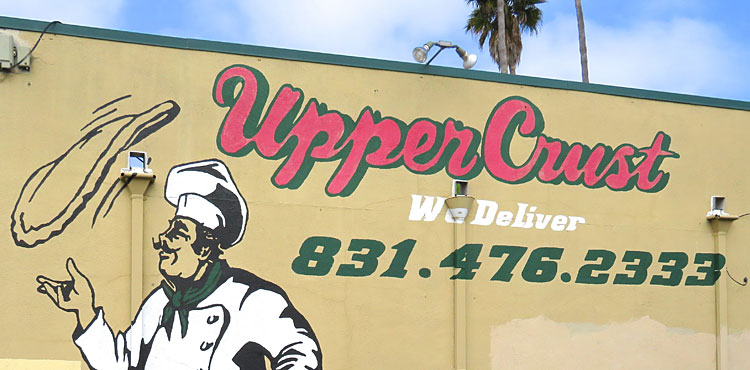 Before placing an order, customers are well-advised to order from the website link www.uppercrustsc.com as there are numerous-mouth watering menu items to consider. Five types of pasta are offered including gluten-free penne plus four sauces, lasagna, full or half sandwiches, soup, salad, kid's menu, and desserts.
Before the recent Stay-at-Home mandate and to satisfy our fix for comfort food, daughter Joy and grandson Phoenix joined me for an Upper Crust socially-distanced take-out meal on my condo deck. Phoenix took a break before his final Cabrillo College exam by sharing with Joy a medium veggie combo containing mushrooms, onions, bell peppers, black olives, and chopped tomatoes, $22.50. He exclaimed, "This is everything I want in a pizza, exactly like a pan pizza should be."
They especially liked the roasted tomatoes and Joy noted that the toppings came almost to the edge of the crust: "The perfect amount of exposed crust."
I chose a Thin Crust Gluten-free "Personal Sized" pizza for $14.95, with mushrooms and black olives. It was crispy pizza perfection and browned just right on the bottom. (I always check to make sure the dough is cooked). We all agreed that our pizzas were not overly-salted as has been our experience with other establishments. Parmesan and chili packets are provided.
Pizzas come in Thick-Crust Sicilian Square and Thin-Crust Round, also available in gluten-free options. To Create Your Own Pizza, offered in small, medium, large, family, or party sizes, there is a choice of 30 toppings. A vegetarian version of almost everything is on the menu.
The Upper Crust Kid's Menu (kids under 8) will be available when indoor dining is allowed. Choices are pizza slice with cheese, mushroom or pepperoni plus drink for $5.95, or pasta of spaghetti or rotini, with homemade meat marinara or homemade vegetable marinara, and butter or pesto sauce for $6.95.
Try Muffaletta, their spin on a Sicilian classic. Pizza dough is coated in sesame seeds, seasoned with olive oil and Italian spices, then layered with Monterey Jack, mozzarella, and provolone cheese. It is then toasted in a brick oven until golden brown. Single Slice is $4.95 and Whole Muffaletta is $34.95.
In 2004, Ernesto Chavez and his family became owners of the Soquel Drive location. After nearly two decades of working through every position available at the Mission Street restaurant, he continued the Sicilian tradition so as to be able to serve more of Santa Cruz.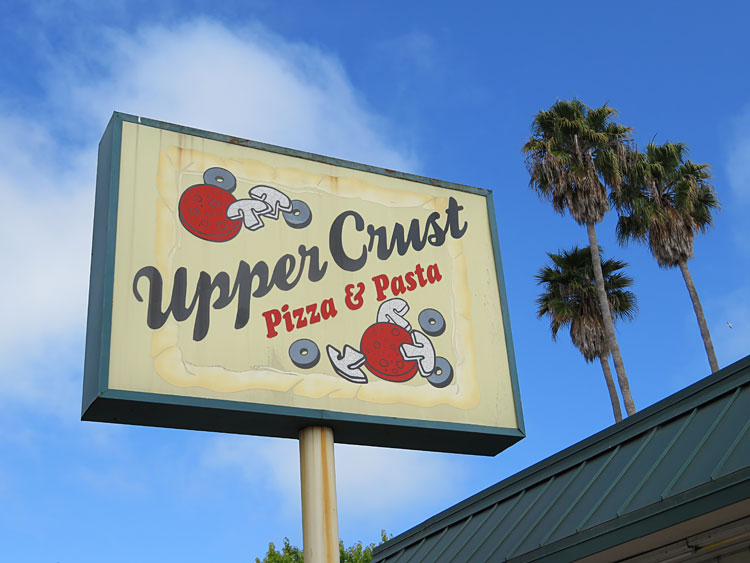 During the pandemic, Chavez and his 10 employees are serving customers by take-out and delivery only. He has not seen a decrease in sales or the need to lay off employees but has decreased their hours, relying on his own family for extra help. He plans to apply for the new government relief package when it becomes available.
The original family, the Carollos, has proudly served the Santa Cruz community since 1979. Their passion for preparing and sharing good food started generations ago in Carini, a small town outside of Palermo, on the Northern coast of Sicily. There, the way of life was centered around time with family and friends while enjoying home-cooked meals made from fresh, local ingredients. Their recipes became a tradition and have been passed down to the next generation.
Upper Crust Pizza & Pasta invites the community to take advantage of their take-out and delivery pizza coupon, found in local papers. Order by phone and mention that you have a coupon. Present it when picking up the order or to the delivery driver. The delivery charge is $2 with a $20 order.
•••
Upper Crust Pizza & Pasta is at 2501 Soquel Drive, Santa Cruz. Call 831-476-2333. Menu: www.uppercrustsc.com
(Visited 179 times, 1 visits today)