Editor's note: For all the employers who put up a "We're hiring" sign and are still looking, here's the explanation: 6,400 fewer workers. Will the job market ever return to normal? Read on.
•••
The Santa Cruz County Workforce Development Board contracted with BW Research of Carlsbad to prepare the "2022 State of the Workforce Report."
This year's report has particular importance as the local and global economy recovers and evolves from the disruptions of the COVID-19 pandemic.
These disruptions have reshaped labor markets and the balance of power between employers and employees, resulting in new challenges.
Another challenge is skyrocketing rental rates: Between 2019 and 2021, the average rental rate for a 2-bedroom apartment grew from $2,400 to $3,000 per month.
Half of renters spend more than 35% of their income for housing, leaving them less discretionary income to spend – and this may make talent attraction harder.
This report highlights the disruptions and include deep dives into industries that have seen the greatest workforce disruptions: Healthcare, hospitality, and agriculture.
Key Findings
1) Santa Cruz County's labor market has shrunk.
In December 2021, there were 6,400 fewer workers than in December 2019.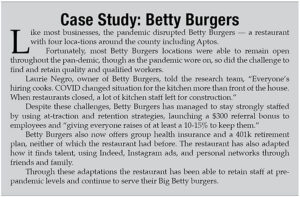 However, the unemployment rate in December 2021 is roughly the same (5.4%) as it was two years prior (5.2%).
This represents nearly a 5% decline in workers over two years.
Labor force participation is part of the problem; between January 2015 and 2022, labor force participation in the county declined roughly 9%.
(This means more people opting not to work.)
Not all of the decline is pandemic related.
Labor force participation rate between January 2015 and January 2020 fell 5% before COVID-19 had arrived in the U.S.
An aging population in Santa Cruz County likely plays a significant role in these trends. The county has more people 55 and older compared to the state as a whole and more people age 18 to 24, thanks to UC Santa Cruz.
Combined with early retirements driven by COVID-19, this has led to an accelerated loss of workers and a lack of younger workers to replace them. The California Department of Finance estimates a net 4,600 residents moved away from Santa Cruz County between July 2019 and July 2021, representing a notable decline in population (273,000 in 2020).
Many were likely low-and middle-income workers.
2) Job quality in Santa Cruz County has improved from 2015 to 2021.
There has been an increase in higher-paying, higher-skill jobs and a decrease in lower-paying, low-skill jobs. Higher-earning jobs pay an average of $75,000 a year. The lowest paying jobs pay on average less than $45,000 a year. In the middle are jobs paying $45,000 to $75,000.
While local job quality remains lower than the statewide average, the county has seen improvement.
In the third quarter of 2021, there were 1,300 more highest-paying Tier 1 jobs, 850 more Tier 2 jobs and 1,100 fewer lowest-paying Tier 3 than in the third quarter of 2015.
This indicates a shift towards a more skilled, more educated workforce with higher median annual earnings.
3)  Industries with the lowest average annual wages per worker all experienced declines in employment between 2015 and 2021, while many better-paying industries saw growth.
About 2,200 accommodation and food services workers were lost between 2015 and 2021 — down 19%. That sector comprises 10% of the county's jobs.
Healthcare and social assistance–which accounts for 15% of countywide jobs and is one of the mid-earning industries–grew by 2%.
Construction industry, another mid-earning industry, saw the most growth, 67%.
Although the information industry is among the highest-earning industries in Santa Cruz County, it shrank the most, 46%.
4) Santa Cruz County residents changed their shopping and employment behavior, and they have not returned to pre-pandemic patterns.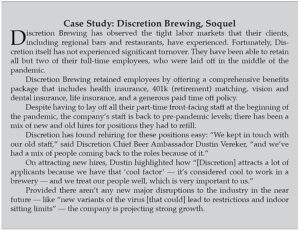 As of March 2022, people in Santa Cruz County were still spending 7% more time at home than they were before the pandemic, and they were spending 19% less time at retail and recreation locations, which include shopping malls and movie theatres.
The nature of work may have also permanently changed for many; people were spending an average of 27% less time at workplaces than before the pandemic.
The rise of remote work may have significant impacts, including changes in commuting patterns and businesses that relied on office lunch hours for revenue.
5) The healthcare industry, which represents 14% of jobs in the county, has seen significant disruption.
According to a fall 2021 nationwide poll of healthcare workers, 18% in the healthcare industry had quit their job and another 12% had been laid-off or lost their job at some point during the pandemic.
The most common reasons included the COVID-19 pandemic (54%), wanting more money or better benefits(50%), finding a better opportunity (50%), and feeling burned out or overworked (49%) .
This high turnover is likely to have lasting implications in Santa Cruz County.
Many high-demand healthcare occupations, including personal care aides, home health aides, nursing assistants, and medical assistants, are projected to see high rates of demand in the next year, as well as low unemployment rates.
These factors, paired with the specialization required for most healthcare occupations, mean that the industry is likely to continue to see a shortage of workers until training and education pipelines can fill some of the gaps.
Cabrillo College graduated 188 students in healthcare professions in 2020, then had enrollment rates compared to 2018 drop 20%.
Some healthcare workers may be able to work remotely but it requires workers who are tech-savvy and emotionally intelligent.
6) The pandemic accelerated the decline in agricultural employment in Santa Cruz County.
In summer, ag jobs typically grew to about 10% of all the county's jobs.
While nonfarm employment across the county has risen steadily over the last decade or more, farm employment has seen a steady decline. Peak farm employment in July 2010 was 32% higher than in July 2021. Some—but not all—of this shift was driven by the pandemic, as peak farm employment fell 17% between July 2019 and July 2021.
This will have long-term effects as farmers look to automation, downsizing their plots, or changing crops to address the labor challenges.
Workers will need to have IT knowledge and experience.
7) Accommodation and food services saw employment plunge 57% in the early days of pandemic — a loss of 11,600 jobs.
By the start of 2022, the industry had largely adapted and recovered — but not fully — by the start of 2022.
The summer of 2022 is expected to experience continued increased demand for hospitality workers and is likely to test employers' ability to find workers.
•••
Recommendations
Many of these will require collaboration and partnership with other organizations and institutions across the county.
1) Initiatives to increase labor force participation and pull residents from the employment sidelines.
Unemployed, underemployed, and adults who are disengaged from the labor force present an economic opportunity for a county that is looking for talent.
Several populations typically have lower labor force participation rates because of barriers, and removing those barriers may help those individuals enter the workforce. These include parents with young children, those with lower educational attainment, formerly incarcerated, and long-term unemployed and discouraged workers.
In South Santa Cruz County, 28% of residents do not have a high school diploma compared to 5% in North County.
Strategies that expand access to childcare, improve digital literacy, and increase educational attainment and awareness of relevant career pathways–especially when they are targeted and refined to support specific populations–can increase labor force participation and improve economic mobility.
2) Workforce attraction and retention for healthcare and hospitality industries.
Both have seen considerable churn and challenges over the last two+ years of the pandemic, and attracting new workers is necessary to fully meet their workforce demands.
The Santa Cruz County Workforce Development Board may be able to help with attraction and retention efforts by working with regional employers to develop career profiles and pathways that illuminate the purpose, earnings potential, and upward trajectory of these jobs.
Developing strategies to educate students and jobseekers on these potential employment opportunities could also be valuable in the larger effort to bring more workers into the industries. Surveys have shown that factors like pay, purpose, and flexibility are particularly important and salient for those looking for new job opportunities in the post-pandemic world, and employers would benefit from readily advertising these aspects of their jobs.
3) Assess and compile the emerging employment skills and pathways in agriculture.
The slow march of automation in agriculture was briefly accelerated by the pandemic, though shortages of human workers highlighted the role that humans will continue to play in agriculture. Many agriculture roles will increasingly rely on some knowledge of web technologies and the Internet of Things and some may even require working alongside robots to maintain them and serve as quality control.
Working with farmers to develop programs that incentivize and upskill current workers may have some success in attracting new entrants and retaining talent. In some cases, these techn skills may be paired with basic education, ESL, computer literacy, or intermediate math or sciences courses to ensure workers have the sufficient background knowledge necessary to operate the technical equipment. This opportunity for workers to advance their knowledge and abilities may help adopters of these programs differentiate themselves from other farms and allow ag workers to increase their education while working.
4) Emphasize education and workforce development among younger adult residents in South Santa Cruz County.
Residents in the Southern sub-region of the county are, on average, younger, less educated, more likely to be in lower-paying employment, and more racially and ethnically diverse than residents in North County.
Workforce development programs in South Santa Cruz County should include these priorities: Increase educational attainment for those that have a high school diploma or less as their highest level of education. Labor force participation, overall earnings, and economic mobility are all improved with higher educational attainment, particularly if those individuals have less than a high school diploma.
Emphasize career education and career pathways that are available in the county and provide an onramp to a sustainable career. Increase communication and engagement between employers and young people. Field trips, site visits, and career days can help middle and high school students better understand the full range of career opportunities and how to best work toward them.
Rather than having all students attend a four-year university to figure out what their interests are, some students may be more interested to learn about healthcare careers that start with a certificate or associate's degree but allow for growth and strong earning potential down the road.
Identify employment opportunities that allow for additional training and education for current workers. Employment opportunities that serve the joint purpose of inspiring and offering young workers more opportunities for training and education, while also providing some income and work experience, would be quite valuable. This could include pre-apprenticeships and apprenticeship programs,as well as paid internships and more traditional full-time employment paired with training and/or educational programs.
5) Promote efforts that will expand affordable housing options around Santa Cruz County's work and transit hubs.
Between July 2019 and July 2021, the California Department of Finance estimates that Santa Cruz County's population declined by a net 4,600 residents. This was driven by nearly 5,000 residents leaving the county.
While this data does not provide county-level detail on the demographics of these workers, we know that low-and middle-income workers make up the greatest share of residents who are leaving statewide.
High costs of living are likely a significant driving force for this migration. Promoting additional housing — including the initiatives that are already underway — is one way to increase affordability. Improving traffic and commute times is another area of opportunity to increase the livability of the county for a broad range of workers. n
•••
Read the full report at: https://workforcescc.com/wp-content/uploads/2022/05/Santa-Cruz-County-SoW-Final-2022.pdf
(Visited 186 times, 1 visits today)