By John Paul Bergh
The 12-year-old Aptos Little League All Stars claimed the District 39 Title Sunday with an unlikely run through the double-elimination district tournament at Harvey West Park in Santa Cruz.
After initially earning a victory over Pajaro Valley with the first game of the tournament, Aptos suffered a tough loss, losing to Capitola-Soquel's All Star team in the second game. Aptos led 6-0 in the 4th inning. Nicholas "Hollywood" Bjorn had several close plays at the plate as catcher but ultimately Aptos gave up 7 unanswered runs and lost.
That sent the team into the consolation bracket. To win the title, Aptos would have to win 5 games in 6 days.
To add to the difficulties facing Aptos, they would have to win 3 games without two of their top players, Cole "Driver" McGillicuddy & Dylan "Rip" Bergh, as they headed to Cooperstown for a pre-planned tournament in New York.
The boys of summer proved to be up to the challenge.
Finn Cormier started the first game on the mound against Live Oak and Aptos rolled onto win with a 12-2 mercy rule victory (when a team is winning by 10 or more runs through or after 4 innings). Then Aptos played Scotts Valley and, after a slow start, won 13-2 on another mercy rule victory.
Next, Aptos played Santa Cruz on their own home field. Finn "Wild Card" Cormier got the call again to start on the mound and battled through an inning before Dylan "Punisher" DiPalma switched places with him from behind home plate to carry the team with an amazing pitching performance.
"The boys started slow but ultimately played great defense behind DiPalma's excellent pitching, which allowed them to stay in the game until they started scoring," said Manager John Bergh.
Cody "Codester" Humble played great defense with catches in left field as did Matthew "Matty" Rayray with an amazing catch in right field to keep the game close.
With Santa Cruz leading 1-0, Miles "Ace" Florez sent his team out of the dugout in cheers with a towering home run to change the momentum. Aptos prevailed 5-2 to set up a rematch with Cap Soquel.
To win the tournament, Aptos needed to beat Cap Soquel twice.
Early Saturday morning, well before the first big rematch, Cole "Driver McGillicuddy & Dylan "Rip" Bergh flew in from New York after finishing in the Top Ten in their Cooperstown tournament and got back to Aptos around 1:30 a.m. The duo was sleepy, but prepared for the game at 4 p.m with batting practice and warm ups.
The first rematch started Saturday with Finn "Wild Card" Cormier on the mound. Both teams fought through 5 innings in a 3-3 tie. Aptos broke the game open in the top of the 6th, scoring 5 runs to beat Cap-Soquel to force a winner-take-all Sunday showdown for the District 39 Championship. Cole "Driver" McGillicuddy, Evan "Baller Vessey" Finn "Wild Card" Cormier all recorded multiple hits. Oliver "Ollie" Meyers, Jace "Joker" Nelson, Dylan "Punisher" DiPalma contributed with hits to propel the team to victory and force Sunday's elimination Championship game.
That game started with Cole "Driver" McGillicuddy on the mound and Finn "Wild Card" Cormier behind the plate for Aptos. After giving up two hits and with two outs in the first, Dylan "Rip" Bergh snagged a backhand at 3rd and touched his bag for a rally-killing end to the inning. In the bottom of the first, Aptos erupted with 8 runs. Ryan "Smurf" Murphy, Mikie "Flash" Melenudo, Evan "Baller" Vessey and Dylan "Rip" Bergh all contributed to an early 5 run lead to set up a massive 3- run home run by Cole "Driver" McGillicuddy that took the Cap Soquel team by surprise.
McGillicuddy went on to record 8 strikeouts with solid defense, notably 2 line drive catches at 2nd base by Mikie "Flash" Melenudo and a spectacular diving catch in center field by Ryan "Smurf" Murphy.
In the bottom of the 5th, Cap Soquel loaded the bases and Evan "Baller" Vessey drove in McGillicuddy from 3rd base to make it 9-0. One more run was all Aptos needed to clinch victory by mercy rule.
With Mikie "Flash" Melenudo at the plate and Dylan "Rip" Bergh at 3rd base, the pitcher threw a ball in the dirt and Dylan "Rip" Bergh dashed for home and slid into the plate to win the championship.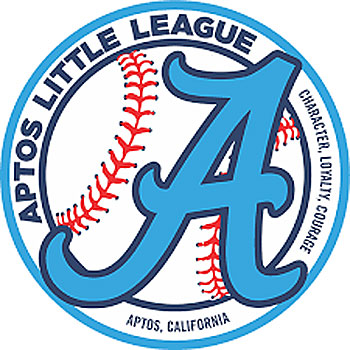 The team rushed out of the dugout and dumped the cooler full of ice and water onto Dylan "Rip" Bergh's head and body as they tackled him near home plate to celebrate.
"The team never gave up. Even with the odds against them, they battled back and picked each other up on their way to winning the Championship," said Aptos Coach Patrick Rayray.
The team received the District 39 banner and posed for pictures and some gave interviews to the Santa Cruz Sentinel.
In his post-game interview, Dylan "Rip" Bergh, who went 3-3 and scored the winning run, said,"We practiced every day, we surfed every day, and had a lot of fun."
Now the team is set to go over the hill and represent Santa Cruz County (District 39) in the Section 5 playoffs.
Game 1 is Thursday. July 15. against Sunnyvale at 5:30 p.m. at Cambrian Park Little League. Game 2 will be Saturday (time TBD). Local fans are encouraged to attend. Email [email protected] for information.
It was a big year for Aptos Little League. Aptos Little League earlier captured the 13-year-old District 39 Championship and the 10-year-old District Championship.
•••
John Paul Bergh is manager of the Aptos Little League 12-year-old All Stars.
(Visited 24 times, 1 visits today)