On May 21, Cabrillo College honored 1,240 graduates in a virtual ceremony, and for the first time at the federally-designated Hispanic-serving institution, 50 percent of the graduating class is Latinx.

The college also recognized 115 non-graduates intending to transfer to four-year universities. Another 358 graduates intend to transfer to earn a four-year degree, for a total of 473 transfer students.
A notable 76 students will graduate or transfer as part of the Honors Transfer Program, having completed all the requirements, including at least 15 units of honors coursework, while maintaining a 3.5 or higher grade point average. Of those, a record 46 graduated as honors scholars, completing at least 15 units of honors courses with a minimum 3.4 transferable grade point average.
This year, 32 students were certified for UCLA's Transfer Alliance Program into the College of Letters & Sciences — and 75 percent were admitted to their first choice majors at UCLA for fall. Ten students were certified for UC Irvine, completing at least 15 units of honors courses with a minimum 3.7 grade point average to get a guaranteed offer of admission.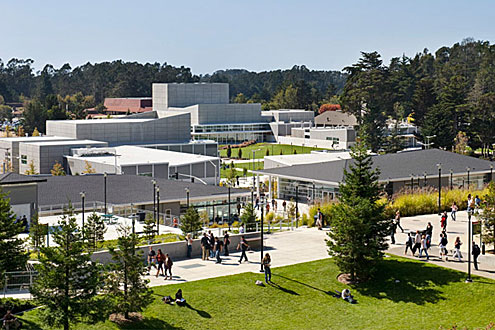 Besides UCLA and UC Irvine, Cabrillo's Honors Transfer Program students were accepted into UC Berkeley, UC Santa Barbara, UC Davis and UC Santa Cruz, Cal Poly San Luis Obispo, San Diego State, CSU Long Beach, San Jose State, CSU Monterey Bay, Northwestern University, Boston University, Bentley University, University of San Francisco, Loyola Marymount University, St. John's University, and many others.
This year, 66% of the graduates are women and 33% are men.
Cabrillo awarded 1,066 associate of arts degrees and 499 associate of science degrees. And 349 students graduated with an associate's degree for transfer offered by the California Community Colleges, which guarantees admission to a California State University campus.
"I'm so proud of our students," said Dr. Kathie Welch, Cabrillo College vice president of instruction, who is retiring after 21 years as the school year ends. "Despite challenging life and world circumstances, our students have persisted and reached their goals of graduation and/or transfer."
Cabrillo graduates earned 253 certificates of achievement and 209 skills certificates. The Class of 2021 ranged in age from 17 to 73, with an average age of 27.
The 62nd graduating class also set a record for the most students graduated with a 4.0 grade point average, 165, up 9% from last year.
High honors (3.75-3.99 grade point average) were earned by 202 graduates, honors (3.5-3.74 grade point average) by 227 graduates and honorable mentions (3.0-3.49 grade point average) by 438 graduates.
Cabrillo's graduation ceremony was a virtual one again this year, due to the COVID-19 pandemic and county and state guidelines limiting mass gatherings.
The ceremony, available for viewing at https://www.cabrillo.edu/graduation/, features remarks by Cabrillo President and Superintendent Dr. Matthew Wetstein, Faculty Senate President Anna Zagorska, and Classified Employees Union President Jessica Carroll.
Tomas Alejandrez, Student Equity Ambassador and UCSC Karl S. Pister Leadership Opportunity scholarship award winner, shared his story of overcoming adversity in achieving his degree and preparing to transfer to UCSC.
Cabrillo Board President Rachael Spencer conferred the degrees and Vice President of Student Services Amy Lehman conducted the ceremonial Moving of the Tassel.
"As a graduate of the Cabrillo nursing program, coming back to Cabrillo to work has been a wonderful and enriching experience," Welch said. "I've enjoyed coming to work every day because Cabrillo is a caring community of professionals dedicated to the education and future of our students. I'm grateful I've had the opportunity to make a difference."
(Visited 5 times, 5 visits today)