Costumes aren't just for Halloween anymore. That's why Goodwill in Santa Cruz operates its costume shop year round.
The 1,000-square-foot store aims to be Santa Cruz County's costume headquarters, appealing to kids and adults.
While gathering is on hold right now, it has been common practice to dress in costume for events such as Coachella Valley Music and Arts Festival, Burning Man, Mardi Gras, Comic-Con, renaissance faires, public sporting events, fun runs and even weddings.
When gatherings are allowed, parties with themes like the 1960s, Western, luau, ugly sweater may see a comeback.
And there's cosplay (a blend of the words costume and play), a performance art in which participants wear costumes and accessories to represent a specific character or idea. Participants are called cosplayers, and go above and beyond copying their character's outfits by mimicking their mannerisms and gestures as well.
"Halloween is a great time to dress up," said Evelyn Matthew of Goodwill Central Coast. "But Goodwill actually saves things we think might be costume worthy throughout the year."
It's her job to help Goodwill shoppers find the perfect costumes — no matter how big or small.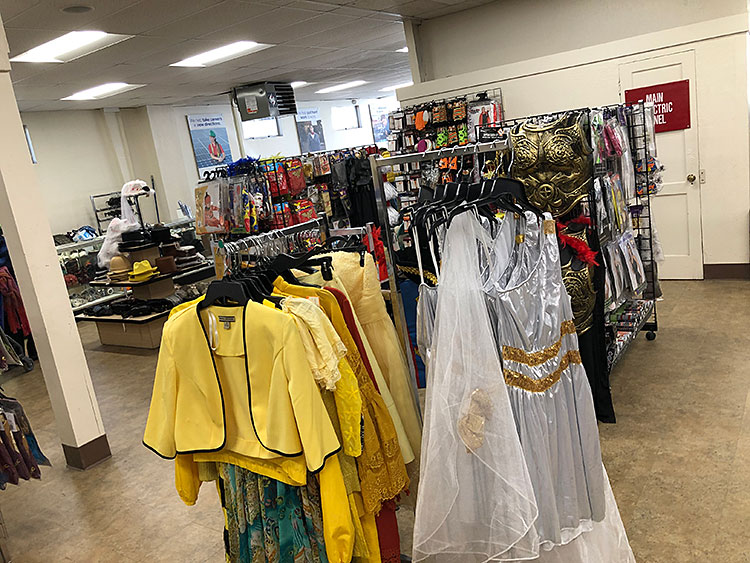 "We help all age ranges here," she said. "There's no limit to creativity and wanting to try something new and be someone else for a day."
A short list of fashion pieces include: Overalls, coveralls, corsets, petticoats, tutus, lingerie, vests, Hawaiian shirts, ruffle tops, aprons, tuxedo shirts, gowns, capes, fake fur, feathers, wigs, cowboy hats, pinafores and belly dance coordinates.
"Have an idea of what you'd like to do, but if you don't, we can help you," she said. "And don't worry about a specific color. Just because we don't have the color you want, we might have the style you like."
Another benefit is the ability to stay within a budget.
"You get costumes at a decent price at Goodwill," Matthew said. "If you want to look at it as a retail price as if you went to a department store, we have it here cheaper for you."
(Visited 21 times, 1 visits today)