Small Business Administration Opens Restaurant Aid Window
By Jondi Gumz
With 15,636 recovered COVID-19 cases and 242,000 vaccinations, the pandemic outlook in Santa Cruz County is improving so much that the Scotts Valley City Council has green-lighted the Fourth of July parade.
Council member Donna Lind is stepping in to chair the organizing effort for the parade, reported City Manager Tina Friend.

A slight uptick in cases means the county's move into the less restrictive Yellow Tier will be postponed. The county, one of 41 in the Orange Tier, reports 204 deaths, only 144 active cases, and more than 31,000 negative test results.
The move to the Yellow Tier expected on April 28 did not happen.
The reason is the county's adjusted case rate went up from 1.4 cases per day per 100,000 people to 2.1 cases per day, and it has to be below 2 to qualify.
Test positivity was .8 percent, below the 2 percent the Yellow Tier requires.
Until the numbers are reviewed next Tuesday, gyms, saunas, dance and yoga studios, wineries, breweries and bowling alleys must operate at 25 percent capacity.
Live-audience events staged outdoors are capped at 33 percent capacity.
The Brookdale Lodge has already restarted live music outdoors and the Scotts Valley Chamber has announced the Art & Wine Festival will return Aug. 22-23.
The Aptos Chamber of Commerce won't organize the 4th of July parade or the party at Aptos Village Park this year, but Cabrillo Stage plans outdoor musicals in June and July.
Overnight summer camps can begin June 1.
A new weekday program, "Camp Scotts Valley" for kids 6-18, will debut June 14 through Aug. 6 at the Scotts Valley Community Center in Skypark, operated by the Boys & Girls Clubs of Santa Cruz County. Registration begins May 10 at https://boysandgirlsclub.info.
To help food businesses struggling with shutdowns and capacity limits, $28.6 billion was allocated by Congress and approved by President Joe Biden — and the first-come, first-served window opens with the U.S. Small Business Administration taking applications online at 9 a.m. May 3.
This can provide restaurants with funding equal to their pandemic-related revenue loss up to $10 million per business but no more than $5 million per physical location. Funds must be used for allowable expenses by March 11, 2023.
Business owners should register in advance for the Restaurant Revitalization Fund at tinyurl.com/dine-vital-award/. The application window will remain open until the money is gone.
(Full URL: restaurants.sba.gov/requests/borrower/login/?next=/%3Futm_medium%3Demail%26utm_source%3Dgovdelivery)
Although new COVID cases are way down, the local economy hasn't recovered due to regulatory restrictions — unemployment in March was 8.1 percent and more than 5,000 jobs in the hospitality sector had yet to return.
To help restaurants, the Scotts Valley City Council allowed outdoor restaurant dining through May 31 when indoor seating was prohibited.
"It's been widely used, popular with patrons and have helped business expand their capacity," said City Manager Tina Friend. "We consider it a big success."
With May 31 approaching, the council is likely to discuss this month whether to extend the temporary program and make permanent, she said.
Kids In School
A week ago, Scotts Valley schools opened for full in-person instruction in the elementary grades — a huge change after the pandemic shuttered schools a year ago.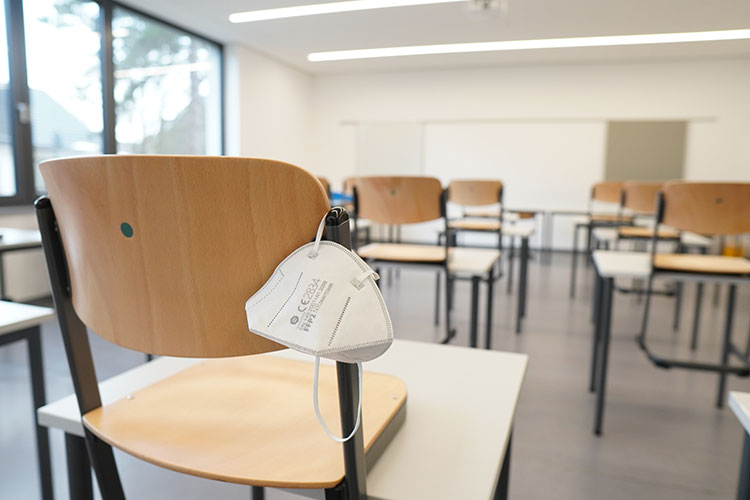 With 77 percent of parents wanting in-person instruction, up from 70 percent previously, the district hired one more teacher for Vine Hill Elementary to adhere to the state's three-foot spacing requirement in classrooms. Brook Knoll School re-rostered students. Parent volunteers helped with outdoor supervision but more volunteers are needed.
"It certainly felt like a new start for all," wrote Tanya Krause, superintendent of the Scotts Valley Unified School District, updating parents April 23.
A week ago, Pajaro Valley Unified School District welcomed back to school all students who wanted in-person instruction on campus — a huge change after the pandemic shuttered schools a year ago.
Dr. Michelle Rodriguez, PVUSD superintendent, Krause, and their fellow superintendents sent an April 21 letter to parents, noting "a report published by the CDC found in-person instruction does not pose a major risk of COVID-19 to children as long as they continue to wear face coverings and maintain adequate physical distance between themselves and others."
Scotts Valley will survey parents in May about their desires for fall. Krause has yet to hear on Scotts Valley's request for a waiver to avoid extending the school year for days lost during the CZU fires; expect an announcement soon.
Scotts Valley High School was one of three vaccine clinic sites for students 16 to 18 arranged by the Santa Cruz County Office of Education with Dignity Health, Dominican Hospital, county Public Health, Salud Para La Gente and Safeway.
Clinics this week have Pfizer vaccine, enough for 1,800 students. If vaccine for students age 12 to 15 is approved by the U.S. Food and Drug Administration, the Santa Cruz County Office of Education will work on vaccine clinics for them.
The vaccine is free and voluntary. Parental consent is required, with families notified via email.
The superintendents' letter states: "We are committed to ensure that all families and students have access to vaccination regardless of income level, ZIP code, immigration status and /or whether have health insurance or not."
They expressed optimism the pandemic would continue to subside as more people get vaccinated and encouraged families to keep wearing masks, physical distancing and following quarantine and isolation protocols if exposed or infected to prevent the virus from spreading.
(The letter also provided eight resources, in wake of the guilty verdict for Derek Chauvin, who is white, in the murder of George Floyd, who was black, for conversations about race.)
No School Transmission
Sam Rolens, spokesman for Santa Cruz City Schools, reported in his first weekly video news update on Facebook "the steadily improving picture of the pandemic locally," with half of the county's eligible population has received one shot, and more than a third fully vaccinated.
Even with elementary students back on campus five days a week, there have been zero cases of on-campus spread in Santa Cruz City Schools, he said, noting exposures and cases are tracked on the district website.
New air filtration systems have been installed at schools in preparation for the fall, he added.
Cabrillo College will host a virtual commencement ceremony at 4 p.m. Friday, May 21. The community at large is invited, and graduates are welcome to celebrate on social media.
Gov. Newsom, who is being subjected to recall, aims to fully reopen the state June 15, allowing conventions to resume with attendance capped 5,000.
Johnson & Johnson Vaccine Cleared
On April 23, federal regulators ended the 10-day pause on the single-shot Johnson & Johnson vaccine, begun after 6.8 million doses to investigate after six women under age 50 had blood clots in the brain and one died.
A new warning on the label will warn about this uncommon, but potentially deadly, effect.
Dr. Gail Newel, Santa Cruz County health officer, agreed with eight health officers in the Bay Area agreed that the risk of developing the rare clotting disorder is extremely low. They issued a press release comparing the risk of dying from COVID-19 if you have a confirmed case as 1 in 56 to the risk of injury from the Johnson & Johnson vaccine as 7 cases per million doses among women between 18 and 49 and 2 cases per million doses overall.
Johnson & Johnson supplied only 4 percent of the California's vaccines, and Santa Cruz County responded by substituting the two-shot vaccines from Pfizer and Moderna.
Johnson & Johnson's vaccine has two advantages — one shot is needed instead of two and it doesn't require extremely cold storage like the others.
Vaccine Reward: No Mask Outdoors
On April 27, the federal Centers for Disease Control issued new guidelines on wearing masks to prevent COVID spread, saying fully vaccinated people can skip the mask outdoors — unless they're in a big crowd.
President Biden remarked on the change, saying it's a new reason to get vaccinated. He told the Associated Press, "If you're vaccinated, you can do more things."
To look for a vaccine sign up at www.MyTurn.ca.gov.
Most but not all health providers are on this platform. Or go to santacruzhealth.org, click on vaccines. Another source, supported by the federal Centers for Disease Control, is www.vaccinefinder.org.
Santa Cruz County health officials have prioritized equity, allocating 60 percent of its doses for the greater Watsonville area and its Latinx community, which has seen the most cases.
The Santa Cruz County Office of Education has a vaccine campaign in Spanish at 831-466-5906.
The Toll
COVID-19 has claimed the lives of more than 60,000 Californians.
Deaths in Santa Cruz County have leveled off at 204, with 50 percent of deaths at nursing homes and assisted living facilities, a percentage that was higher early in the pandemic.
Locally, 79 percent of those who died were age 70 or older and 77 percent had other health conditions – those percentages have remained stable.
A year after the pandemic began, with 29 million vaccine doses administered and case rates plummeting, 13 counties are in the Red Tier and 41 in the Orange Tier.
On Thursday, Santa Cruz County reported only three people hospitalized with COVID, none in intensive care.
•••
County COVID Deaths 204
As of April 28
Age
90 and up: 56 • 80 to 89: 62 • 70 to 79: 43 • 60 to 69: 27 • 50 to 59: 5 • 40 to 49: 7 • 30 to 39: 4
Race/Ethnicity
White: 114 • Latinx: 73 • Asian: 15 • Black: 1 • Amer. Indian/Alaskan Native: 1
Underlying Conditions
Yes: 158 • No: 46
Gender
Male: 100 • Female: 104
Skilled Nursing/Residential Care
Santa Cruz Post Acute: 20 • Watsonville Post Acute: 18 • Pacific Coast Manor: 14 • Hearts & Hands Post Acute: 8 • Sunshine Villa: 7 • Aegis: 4 • Maple House 1: 4 • Valley Convalescent: 4 • Watsonville Nursing Center: 4 • Montecito Manor: 3 • De Un Amor: 2 • Dominican Oaks: 2 • Driftwood: 2 • Hanover House: 2 • Maple House II: 2 • Rachelle's Home 1: 2 • La Posada: 1 • Paradise Villa: 1 • Rachelle's Home II: 1 • Valley Haven: 1 • Westwind: 1
Total: 103
Not at a facility: 101
COVID Cases by Town
Aptos: 804 • Ben Lomond: 119 • Boulder Creek: 148 • Capitola: 459 • Felton: 154 • Freedom: 988 • Santa Cruz: 3,915 • Scotts Valley: 436 • Soquel: 352 • Watsonville: 8,059
Unincorporated: 254 • Under investigation: 280
Total: 15,968
Source: Santa Cruz County Public Health
•••
Editor's Note: Would you like to share your family's COVID-19 story? Email Jondi Gumz at [email protected] or call 831-688-7549 x17.
For details on what can open in the Orange Tier, see covid19.ca.gov/safer-economy.
(Visited 43 times, 1 visits today)