Dignity Health Dominican Hospital was honored with the 2021 Al Smith Friend of Agriculture award for its strong support of local agriculture and taking a leadership role in vaccinating Santa Cruz County farmworkers to protect against the contagious coronavirus, COVID-19.
As the pandemic spread, Dignity Health Dominican Hospital held the first large-scale vaccination clinic in California, and likely the nation, that focused on farmworkers.
Dignity Health Dominican Hospital reached out to the Santa Cruz County Farm Bureau to develop a formula that ensured equity in the distribution of vaccines to local farmworkers.
Dignity Health Dominican Hospital's ongoing efforts during vaccine distribution made Santa Cruz County a model for prioritizing farmworkers for counties across America.
The award was announced by Nishan Moutafian, a member of the Farm Bureau COVID-19 Task Force, and presented by the 2020 honoree Sam Earnshaw at the National Agriculture Day spring luncheon May 19.
More than 170 tickets were sold for the in-person event at Paddy Smith Park at the Santa Cruz County Fairgrounds in Watsonville, coordinated by the Santa Cruz County Farm Bureau and the educational organization Agri-Culture.
The Friend of Agriculture award is named for Al Smith, the founder of Orchard Supply Hardware and donated 3,000 acres (Swanton Pacific Ranch) on the north coast to Cal Poly. The ranch has row crops, timber and even a one-third-scale railroad, which was Al's hobby.
The award, on a piece of redwood with a train, is presented annually to an individual, business or organization not involved in production agriculture but has done much for the industry.
At the luncheon, winners of the 2021 National Ag Day Poster and Poetry Contests received their awards.
Oliver Nakazawa Hewitt, 3rd grade, DeLaveaga Elementary School in Santa Cruz, won the poster contest. Allison Navarro Hernandez, 5th grade, H.A. Hyde Elementary School, Watsonville, took second place, and 
Uriel Murillo, 6th grade, Cesar Chavez Middle School, Watsonville, was in third place.
Honorable mentions went to: Jonah Diaz-Le, 4th grade, Anabelle Hardy, 3rd grade, Opal Amelia Weaver, 4th grade, all at Delaveaga Elementary in Santa Cruz; Erika Cruz-Rendon, 6th Grade and Emmanuel Perez Sahagun, 6th grade, both at Cesar Chavez Middle School, Watsonville, Aria Lindberg, 4th grade Good Shepherd Catholic School in Santa Cruz, and Mila Nicolier, 5th grade, Santa Cruz Montessori School in Aptos.
Alme Shelby, 7th grade, Wavecrest, Santa Cruz Montessori School, in Aptos, won the poetry contest for "The Little Farm." 
Jade Haskins, 8th grade
, Wavecrest Santa Cruz Montessori in Aptos, took second, and Sylvi Kayser, 7th grade
, Wavecrest Santa Cruz Montessori in Aptos, took third.
Honorable mentions went to: Sage Silver, 8th grade, Taylor Timucin, 7th grade
, Brooke Fabry, 7th grade
, and Saffron Roohani Russo, 7th grade, all at Wavecrest Santa Cruz Montessori in Aptos, and Jennifer Patz, 8th grade
, Carley Anderson, 8th grade, and Mary Watson, 8th grade, all at Good Shepherd Catholic School in Santa Cruz.
This year, Agri-Culture streamlined its scholarship program so all students could apply for multiple scholarships if they met the qualifications. The winners, announced at the luncheon, are:
Jimmie Cox Memorial Scholarship: Anisa Velasco, $4,000; special award of $1,000 to Hayden Michael Hennie
JJ Crosetti, Jr. Memorial Scholarship: Cole Margarite, $1,000.
Laura Brown Memorial Scholarship: Henry Danner, $2,000.
•••
Farm Bureau President Arnett Young was emcee. Dr. Nanette Mickiewicz, president/CEO, Dominican Hospital, spoke on "Celebrating Spring & the Vaccine!"
Notables in attendance included Watsonville Mayor Jimmy Dutra; PVUSD Superintendent Dr. Michelle Rodriguez; Community Foundation CEO Susan True; CASA of Santa Cruz Executive Director Lynne Petrovic; and Santa Cruz Sentinel Director of Operations, Advertising and Community Partnerships Steve Bennett.
•••
The Little Farm
Winning Poem By Alme Shelby
A look among the hills, a little farm
It's like a beautiful charm
Whose luscious fruits are like mounds of gold,
When autumn nights are crisp and cold.
With wide blue skies hung overhead,
The clouds are like a silky white bed.
The farm, hemmed by orchard trees,
The way they sway in the afternoon breeze.
Flowers bloom in the lovely spring
When all the enchanting birds sing.
A small delightful garden, with all you need
Lush vegetables and herbs, it will feed.
•••
Agri-Culture 2021 Scholarship Winners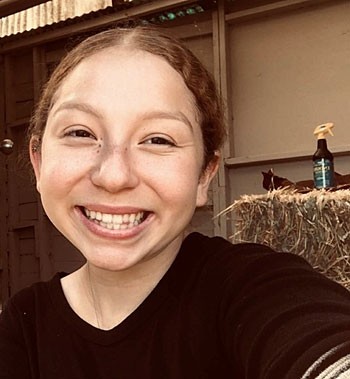 Anisa Velasco: Anisa is a 12th grader at Watsonville High School with a GPA of 3.665. Anisa plans to attend Cal Poly San Luis Obispo where she will major in animal science in hopes of pursuing a career as a veterinarian. As a child, Anisa would use herbs and homemade remedies to help heal any animal she could, and helping the animals gave her a wave of excitement which has steered her toward the path of veterinary medicine. American AgCredit provides $2,000 of the $4,000 award.
Hayden Michael Mennie: Hayden graduated from Aptos High School in 2019, and attended Cabrillo College where he carried a 3.935 GPA. He plans to attend Fresno State University in the fall, major in agricultural business and prepare for a career in ag sales. He works for RJO Produce Marketing, and will continue while working on his degree.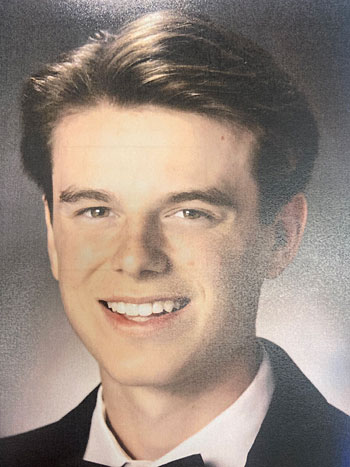 Henry Danner: Henry is a 2019 graduate of Scotts Valley High School and attends Cal Poly San Luis Obispo, where he has a 3.6 GPA. He is majoring in animal science, and minoring in music, and plans to pursue a career as a veterinarian. Henry's interest in veterinary medicine blossomed in high school when he accepted a part-time job as a janitor at Valley Oak Vet Clinic in Scotts Valley. He and the clinic's veterinarian, Dr. Arnold, bonded over their mutual love for science, animals and music.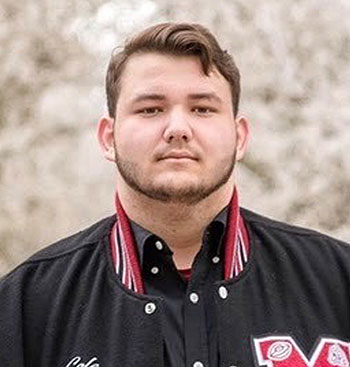 Cole Margarite-Donart: Cole has attended UC Santa Cruz for two years and has a GPA of 3.42. He is majoring in plant science and preparing for a career as an agricultural crop field advisor for sustainable research and systems management. A 4th generation farmer, he is committed to helping farmers produce crops more efficiently to feed America and the world. He works part-time with the University of California Agriculture and Natural Resources office.
•••
For info about Agri-Culture, Inc.'s Scholarship program, email: [email protected].
Top Photo: The winning poster by third grader Oliver Nakazawa Hewitt.
(Visited 30 times, 14 visits today)