Monarch Services Offers Positive Solutions Again
By Delphine Burns
While the COVID-19 pandemic presented unique challenges to the way we at Monarch Services traditionally run our programs and serve clients, we were able to adapt and adequately serve our clients, both individually and in group settings. One example of this success is the long-anticipated launch of the Positive Solutions program.
Positive Solutions is a group program for individuals who have caused harm in domestic violence situations. This program provides tools to stop abusive behavior, help participants develop an awareness of their emotions and change their attitudes that have contributed to their harmful behavior.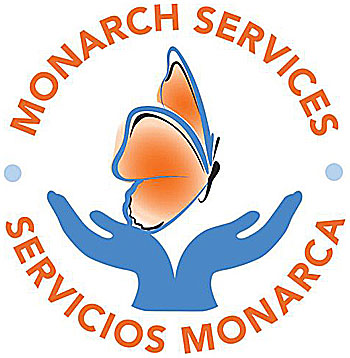 In October of 2019, we began offering intake appointments for our pilot Positive Solutions program. We received referrals from Family and Children Services and self-referrals. When COVID-19 hit, we had to restructure the program to be virtual, even though we had never previously offered it in person.
As one can imagine, there were many obstacles our group facilitators faced in piloting this program during a global pandemic. By the time the program was restructured to accommodate virtual participation, many participants were either unavailable due to the new schedule or our facilitators were unable to contact them.
Some participants did not have access to internet or a web cam, so were unable to log into Zoom. Monarch Services offered support by purchasing wireless hotspots for these participants. Sometimes group engagement was challenging, as not every participant was familiar with Zoom and its functionalities.
Additionally, sometimes encouraging individuals to participate in the program was challenging as some shared that they did not feel that the virtual group was a "real" group. Our two group facilitators created group agreements with the program participants and worked hard to motivate and help them take responsibility when violating a group agreement, such as entering Zoom groups late. Our case manager innovatively reorganized materials and binders to ensure these materials would be available to participants in a socially distant way.
Despite these challenges, there were many positive outcomes resulting from our pilot Positive Solutions program. Since our first group of participants was small, there were more opportunities for each participant to share and interact with the group facilitators. The virtual and remote format also enabled some participants to join the group who may not have been able to if the group had been in person.
Ultimately, one participant successfully completed the group. Because of his success in the program, he now has custody of his son, has a stable job, his own home and is planning to go back to school to further his education.
We are currently finalizing a start date for our second Positive Solutions group. This group will run for a full 52 weeks and we encourage referrals. Learn more about the program at www.monarchscc.org/programs-and-services/positive-solutions-program/
To make a referral, call Dalia Ochoa-Navarro at (831) 800-2886.
•••
For questions, call Monarch Services, (831) 425-4030 or (831) 722-4532.
(Visited 9 times, 1 visits today)