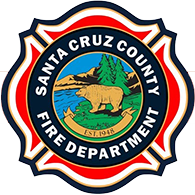 With a heavy heart, the County of Santa Cruz and the Santa Cruz County Fire Department announce the death of a volunteer recruit during weekend training exercises.
On Sunday, Feb. 19, Daniel Lamothe, 38, of Santa Cruz, became medically distressed during a joint firefighter academy training session at Ben Lomond Training Center. He received immediate medical attention from trained medical personnel on scene, but efforts to revive him were unsuccessful.
"We mourn the passing of one of our brethren," County Fire Chief Nate Armstrong said. "Daniel wanted to be a firefighter so that he could give back to the community where he was raised and in which he lived. His commitment to public service serves as a model for us all. We grieve along with his friends and family for this sudden and tragic loss."
An autopsy is being conducted to discover the cause of death.
County Fire provides wildland and structural fire protection, emergency medical services, fire prevention, fire marshal and public education services to unincorporated areas of the County during winter months. The County contracts with CalFire for these services, with the CalFire San Mateo-Santa Cruz Unit Chief serving as the Santa Cruz County Fire Chief.
County Fire includes five dedicated volunteer fire companies to assist in providing fire protection and emergency response services.
(Visited 80 times, 1 visits today)