Amidst the uncertainty brought on by COVID-19, and to ensure schools can adhere to essential safety protocols, the nonprofit Kind Campaign has created its first Virtual Founders Assembly for schools.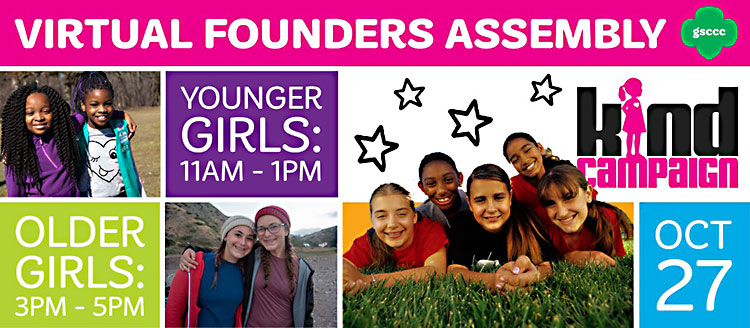 Girl Scouts of California's Central Coast will host a virtual Kind Campaign assembly Oct. 27, with a session for younger girls from 11 a.m. to 1 p.m. and one for older girls from 3 to 5 p.m.
Each October, Kind Campaign's co-founders, Lauren Paul and Molly Thompson, travel across North America giving assemblies for National Bullying Prevention month and again in the spring, making 70-80 visits a year.
This fall, the assemblies will be live-streamed as Lauren and Molly work to bring awareness and healing to the negative and lasting effects of girl-against-girl bullying. They will share their personal testimonies, introduce their award-winning documentary Finding Kind, and facilitate activities with the goal to change lives.
Thanks to the campaign's fundraising and corporate partnerships, the nonprofit offers assemblies and curriculum to schools and organizations free of charge.
Survey data from Kind Campaign Assemblies have shown that:
96% of girls surveyed were compelled to be kinder to girls after experiencing a Kind Campaign Assembly.
Two out of every three girls apologizes to someone during or after an assembly.
90% of girls surveyed agreed that they did not want to participate in gossip or drama after experiencing a Kind Campaign Assembly.
87% felt happier after an assembly than they did before.
86% of survey respondents felt that the campaign gave them hope for a better rest of the school year.
90% of girls surveyed realized they were not alone because of the Kind Campaign Assembly.
86.8% of girls surveyed felt like a better person after participating in a Kind Campaign Assembly.
•••
Kind Community Activations are available @kindcampaign on Instagram.
(Visited 26 times, 1 visits today)