By Jondi Gumz
If you get Covid like Gov. Gavin Newsom, who tested positive after being vaccinated and twice boosted, you'll have to isolate for five days, like he did. The governor, 54, tweeted about his mild symptoms and opted for five days of Paxlovid, an antiviral medicine, recommended to prevent severe illness. Paxlovid is available at drugstores such as CVS and RiteAid with a doctor's prescription.


All of coastal California plus Merced, Tuolumne and Mariposa counties (on the way to Yosemite National Park) are rated "medium" transmission by the U.S. Centers for Disease Control and Prevention on its COVID tracking map, which pus 55% of the nation at "moderate" or "high" risk. Hotspots are in Connecticut, New Hampshire, and Massachusetts, in case you were thinking of a vacation there.
Subvariants of omicron (and waning immunity from vaccines) are suspected to be behind the latest wave of new cases. Before graduati0n season, health officials advised masking indoors and of course vaccination.
The highly contagious coronavirus Omicron subvariants have pushed up Bay Area case numbers — but Santa Cruz County cases, which had risen, dropped from 1,715 on May 23 to 1,472 as of May 26.
Santa Cruz County updates the numbers on Mondays and Thursdays, and Monday was Memorial Day. So these numbers are likely out of date. Moreover, many people testing at home are not required so positive or negative home tests are not reported in the county figures.
It might seem like everyone is getting Covid, but the biggest spurt, May 9, after Mother's Day, was 182 cases, compared to 1,312 on Jan. 20.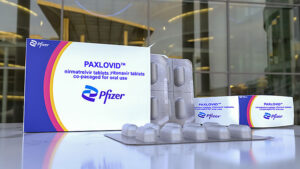 Santa Cruz County offers "Test to Treat" sites, including the three OptumServe testing sites, open to anyone regardless of insurance or documentation status. Visit https://lhi.care/covidtesting/ and make an appointment. The closest are Felton library and the Santa Cruz County Governmental Center in Santa Cruz.
Statewide, Covid test positivity is 7.9 % , up from 6.6.% — and it's 6.99% among Santa Cruz County students, according to the Santa Cruz County Office of Education, which has provided 514,600 tests.
For those who test positive and are at risk of severe illness, the CDC recommends asking your doctor for a prescription for Paxlovid, pills developed by Pfizer for higher risk individuals age 12 or older and given emergency use authorization by the FDA in December. Lagevrio, produced by Merck, also got emergency use authorization for mild to moderate Covid.
On May 17, the FDA announced kids age 5 through 11 are eligible for a Pfizer-BioNTech booster shot five months after the first. The goal is to prevent severe case among children this age.
So far, the new subvariants are very easy to spread but do not seem as dangerous as Delta.
There are more people hospitalized — 2,200 in California, double from where it was. But ICU admissions are rising much more slowly and the number of deaths per day is trending down. Santa Cruz County, which had 15 people hospitalized with Covid, now has 7, one in intensive care.
With 52,000+ county residents having had the infection, natural immunity may be a factor.
The federal Food and Drug Administration has not authorized a Covid vaccine for children under 5.
The CDC estimates almost 60 percent of the populace — including 76% percent of children — have had Omicron or another coronavirus variant.
Lawsuit vs. State
California Parents United, founded by Carmel attorney Tracy Henderson, contends the State Department of Public Health guidance for schools is non-binding because the agency did not follow the rule-making process required by the Administrative Procedures Act.
If a child is refused in-person instruction, Henderson advises filing a tort claim. Details at www.californiaparentsunited.org/call2action
Cabrillo College in Aptos brought back in-person graduation May 20 at the football stadium. Scotts Valley High hosted in-person graduation ceremonies May 27 on the football field.
Capitola's Classic Car Show returns June 11-12 in Capitola Village, and Capitola's Twilight Concerts begins June 15.
Starting June 16, the Santa Cruz Beach Boardwalk brings back live music Thursdays on the Colonnade,with Friday night movies starting June 17.
The city of Scotts Valley is seeking help to host its Independence Day parade and celebration at Skypark a day early, Sunday, July 3, with a fireworks celebration that night.
Proposed Laws
Protection of the Educational Rights of Kids, headed by Amy Bohn in Newbury Park, which filed six lawsuits against vaccine mandates, is watching the 10 or so Covid bills. Five were shelved or pulled.
Sometimes measures that stall in May come back in a budget trailer bill — which avoids public hearings. Covid bills that remain active include:
SB 866: To allow children 12 and older to get Covid vaccines without parental consent. Passed by Senate, Assembly Judiciary Committee June 1.
AB 1419: To prohibit the representative of a minor from inspecting the minor's patient record when the records relate to medical care related to the prevention or treatment of pregnancy. Passed by Senate. This bill goes with SB 866.
SB 1184: To authorize a health care provider or plan to disclose your child's medical information to a school-linked services coordinator without parent consent. Passed by Senate.
SB 1479: To mandate Covid testing plans at schools. Passed by Senate.
AB 1797: To create a state immunization tracking system and give schools and other entities access to all vaccine records. Passed by Assembly.
AB 2098: To classify a physician or surgeon disseminating or promoting misinformation or disinformation related to COVID-19 as unprofessional conduct and grounds for discipline. This is supported by Sen. Richard Pan, a physician, and opposed by the Association of American Physicians and Surgeons. Passed by Assembly.
To track bills, see https://leginfo.legislature.ca.gov
With SB 871 pulled by the author, Gov. Newsom is delaying plans to mandate Covid vaccine for school children until July 2023.
Hospitalizations from Omicron had peaked in January, then plummeted and have been rising albeit slowly.
The state Department of Public Health reports test positivity, 23% in January, has ticked up from 1.7% to 7.9% and hospitalizations — 20,000 in January —dropped to 950 before rising to 2,280.
A new study by Dr. Audra Inness in the American Journal of Medicine reviewed more than 1,000 abstracts on restricting hospital visitors during the pandemic and found the policy's connection to COVID-19 transmission was poorly studied.
New workplace rules adopted in California require unnvaccinated and vaccinated workers to be treated the same; no mask mandate for the unvaccinated. Employees testing positive can return to work masked five days later.
Omicron has a shorter incubation period then the early coronavirus variants.
Airline Mask Policy
If you're flying Alaska, American, Delta, JetBlue, Southwest, or United, masks are optional. Masks may be required at airports.
For airlines elsewhere, check www.afar.com/magazine/which-airlines-require-masks
Airline masks became optional in the U.S. after a federal judge in Florida on April 18 voided the mask mandate ordered by the federal Centers for Disease Control and Prevention for airlines, trains and buses on Feb. 3, 2021.
The Justice Department appealed at the CDC's request but the agency did not ask for a stay, which would have reinstated the mandate.
U.S. District Judge Kathryn Kimball Mizelle ruled in favor of Health Freedom Defense Fund and airline travelers Ana Carolina Daza and Sarah Pope, who claimed the CDC failed to provide a 30-day comment public period required for new regulations.
Mizzell provided a 59-page explanation, based on the Public Health Services Act of 1944, which specifies sanitation as a measure that could be necessary to prevent disease from spreading, but has no definition of sanitation.
"Wearing a mask cleans nothing," the judge wrote. "At most it traps virus droplets. But it neither 'sanitizes' the person wearing the mask nor 'sanitizes' the conveyance."
The government interprets "sanitation" to mean "applying of measures for preserving and promoting public health." The judge disagreed, writing that historically, public health has been regulated at the state level, and the 1944 law has no clear language that Congress intended the CDC to take over.
To read the ruling see https://ecf.flmd.uscourts.gov/cgi-bin/show_public_doc?2021-01693-53-8-cv
Santa Cruz County, which updates its dashboard on Monday and Thursday, reports 1,715 active cases, on the rise but down from the peak of 10,000.
Omicron Less Deadly
The Omicron variants are less deadly than the Delta variant, which raged in 2021.
Santa Cruz County reported 37 Covid deaths after Omicron, compared to 225 as of Dec. 15, before Omicron.
One statistic is similar: 79% to 81% of those who died had pre-existing conditions.
Why do people fear Omnicron?
They may have a pre-existing condition (diabetes, obesity, asthma, high blood pressure).
Half of Americans do, so they are at higher risk for severe Covid illness.
So are people 85 and older.
California reports 83.5% of residents age 5 and up have had at least one shot.
On the CDC Covid tracker, Santa Cruz County reports 91.1% of residents age 5 and up have at least one shot and 83.1% fully vaccinated.
Scotts Valley Schools
On June 1, the Scotts Valley Unified School District reports 48 active student cases and 5 staff cases. Scotts Valley High has 10 student cases and one staff case. Scotts Valley Middle has 9 student cases and one staff case. Brook Knoll Elementary has 10 student cases and 2 staff cases. Vine Hill Elementary has 9 student cases and one staff case.
The school district, with 2,183 enrolled, finished the school year with 461 student cases and 43 staff cases.
Santa Cruz County Office of Education, with Inspire Diagnostics, has provided a half million tests.
Cases in local schools peaked at 4,407 on Jan. 27, dropped to 44 on April 1, then rose to 832 on May 30. The 14-day positivity rate, 12.25% on January, dropped to .79%, then rose to 6.99%.
Fully vaccinated means having two shots (Pfizer or Moderna) or one Johnson & Johnson shot. All were developed for the initial Wuhan Covid-19 strain.
For Omicron, a booster shot is needed after the Pfizer vaccine, because protection against hospitalization wanes after three months, a Kaiser Permanente study of 11,000 hospital admissions and emergency room visits found.
Adverse Effects Database
In a 2022 report in the Journal of American Medical Association online, Dr. Matthew Oster of the CDC reported the government's VAERS database received 1,991 reports of myocarditis after one dose of mRNA-based Covid-19 vaccine and 1,626 met the CDC's definition for probable or confirmed myocarditis.
Oster's conclusion: "The risk of myocarditis after receiving mRNA-based Covid-19 vaccines was increased across multiple age and sex strata and was highest after the second vaccination dose in adolescent males and young men. This risk should be considered."
Public health officials say the scientific consensus is that Covid vaccines are safe, but some are skeptical about relying on science from drug-makers, which saw profits rise in 2021. They point to the U.S. government database, https://vaers.hhs.gov/, where health care providers are to report adverse events after a vaccine.
The reporting site was created after Congress passed a law in 1986 protecting vaccine manufacturers from civil personal injury lawsuits and wrongful death lawsuits resulting from vaccine injuries.
Health and Human Services Secretary Alex Azar invoked the Public Readiness and Emergency Preparedness Act, a 2005 law allowing him to provide legal protection to companies making or distributing critical medical supplies such as vaccines unless there's "willful misconduct" by the company. This protection lasts until 2024.
The VAERS database lists reports of injuries after a vaccine, but there's been no follow-up study to evaluate if the injury was cuased by a vaccine.
Renz Law, representing military whistleblowers, sued the federal government to lift the vaccine mandate for military personnel and appeals for passage of legislation repealing immunity for vaccine manufacturers.
"If vaccines are truly safe and effective no one should oppose this," the lawsuit reads.
After mRNA COVID-19 vaccines were mandated for the military in 2021, cases of heart attack, pulmonary embolism, cancers, and myocarditis spiked dramatically, according to the Defense Military Epidemiological Database queries by the whistleblowers.
The Department of Defense's responded that a glitch in the database affected the data from 2016-2020.
Myocarditis is inflammation of the heart, which can lead to clots, a stroke or heart attack.
Testing
The Santa Cruz County Office of Education offers drive-though testing for students, staff and families at:
Cabrillo College, Aptos, Parking Lot K, Monday to Friday 9 a.m. to 5 p.m. and Saturday 9 a.m. to 3 p.m.
Santa Cruz County Office of Education, 399 Encinal St., Santa Cruz, Monday to Friday, 9 to 5 p.m. Saturday, 9 a.m. to 3 p.m.
See: https://tinyurl.com/get-tested-santa-cruz.
Booster shots: https://myturn.ca.gov/
Vaccine providers: www.santacruzhealth.org/coronavirusvaccine.
Local information: www.santacruzhealth.org/coronavirus or (831) 454-4242 from 8 a.m. to 5 p.m. Monday through Friday.
•••
Total COVID cases: 1,492
•••
COVID Deaths: 262
As of May 26
Age
85 and older: 113 • 75-84: 61 • 65-74: 46 • 60-64: 15 • 55-59: 4 • 45-54: 10 • 35-44: 8 • 25-34: 5
Underlying Conditions
Yes: 212 • No: 50
Race
White 150 • Latinx 89 • Asian 16 • Black 3 • Amer Indian 1 • Hawaiian 1 • Another 2
Gender
Men: 135 • Women: 127
Location
At facility for aged: 116 • Not at a facility: 146
(Visited 158 times, 1 visits today)