On March 28, HP Inc. of Palo Alto announced an agreement to acquire Poly (formerly Plantronics), the Santa Cruz-based maker of workplace collaboration solutions, for $40 per share.

The deal implies a value of $3.3 billion, inclusive of Poly's net debt.
Poly is a leader in video conferencing solutions, cameras, headsets, voice and software. In 2021, the company had 431 employees, down from 664 in 2011.
"The rise of the hybrid office creates a once-in-a-generation opportunity to redefine the way work gets done," said Enrique Lores, president and CEO of HP. "Combining HP and Poly creates a leading portfolio of hybrid work solutions across large and growing markets. Poly's strong technology, complementary go-to-market, and talented team will help to drive long-term profitable growth as we continue building a stronger HP."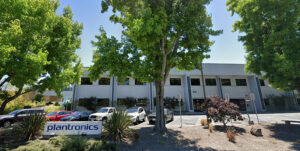 Dave Shull, Poly CEO and president, added: "I am thrilled about the opportunity this represents for Poly, our employees, partners and customers. The combination gives us an opportunity to dramatically scale, reaching new markets and channels, supercharging our innovation with a like-minded partner.'
He added, "This transaction offers compelling and certain value for our shareholders and speaks to the hard work done by our teams to become a recognized leader in helping businesses everywhere meet the challenges of a generational disruption in the way people work."
With the rise of hybrid work in the pandemic, 75% of office workers are investing to improve their home setups.
Traditional office spaces are being reconfigured to support hybrid work and collaboration, with a focus on meeting room solutions. Currently, there are more than 90 million rooms, of which less than 10% have video capability. As a result, the office meeting room solutions segment is expected to triple by 2024.
Cloud platforms like Zoom and Microsoft Teams are playing an important role in innovating for hybrid work.
Eric Yuan, founder and CEO of Zoom added, "Highest quality audio and video has become an essential component of work across every industry, whether in an office, at home, or on the go. Bringing the Poly and HP offerings together will unlock new opportunities to partner with Zoom and turn any space into a hub for dynamic video collaboration."
Poly is expected to drive growth and scale of HP's peripherals and workforce solutions businesses. Peripherals represent a $110 billion segment opportunity growing 9% annually, driven by the need for more immersive experiences. Workforce solutions represent a $120 billion segment opportunity growing 8% annually, as companies invest in digital services to set up, manage, and secure more distributed IT ecosystems.
HP expects to realize substantial revenue synergies in peripherals as well as meeting room and workforce solutions, projecting $500 million of revenue synergies by 2025
HP also expects the transaction to improve Poly's operating margins by six percentage points from current levels by 2025, driven by scale efficiencies across supply chain, manufacturing and overhead.
The transaction is expected to close by the end of calendar 2022, subject to Poly stockholder approval, required regulatory clearances, and the satisfaction of other customary closing conditions. HP will finance the all-cash transaction through balance sheet cash and new debt.
Meanwhile, dozen of employees in Santa Cruz–based Looker's support team, known as the Department of Customer Love, are being laid off as owner Google Cloud plans to rely on outsourced labor through contractors from Infosys, an IT staffing firm based in India, according to a report in TechBrew.
Google acquired Looker, founded in 2012 by Lloyd Tabb, for $2.6 billion in 2020 before the pandemic hit.
(Visited 145 times, 1 visits today)