By Edita McQuary
The New Year is right upon us! Is home redecorating in 2023 on your mind? When you look around your home, do you see areas that need improvement and updating?
If new flooring, carpets or window treatments are on your horizon, a visit to Interior Vision Flooring Design is a must.
The only woman-owned mom-and-daughter business of the kind in this area, Deborah Cypert and her daughter Bobbie Frandeen have just what you need at their Soquel Village location. They take pride in their work in this male-dominated industry.
Deborah has been in the flooring industry for 35 years. Her father was a builder so the construction industry is "in her bones." She learned about flooring while working with him.
Deborah and daughter Bobbie have been working together for 17 years. Their company, Interior Vision, will celebrate 20 years in May 2023 with an expansion of their location. When finished, the store will have almost 3,000 square feet of sustainable mostly-made-in-U.S.A. flooring, carpets and window treatments.
As much as possible, they deal in sustainable, made in U.S.A., hard and soft surface products.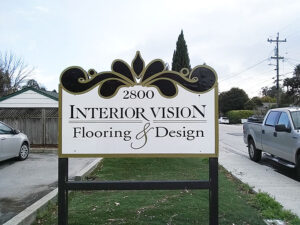 The wood companies they deal with use responsible harvesting methods and sell environmentally friendly products. Many people are allergic to all but natural products so Interior Vision carries natural wood, cork, wool, and linoleum.
"We like to go green all the way through," said Deborah.
Interior Vision offers free in-home consultation, and advice on what would work best in the customer's situation.
"We are invested in developing relationships and want the customer to love what they end up buying. After all, floor covering is the third most expensive investment homeowners are likely to make," according to Deborah.
In regard to window coverings, Bobbie explained some state legislators tried to pass a bill to eliminate all cords on window coverings to be safe for children. However, the bill was amended several times and never passed.
Therefore, in 2018 the industry set its own safety standards to assure safety for children and now we can be assured no new window shades pose a threat to children.
Interior Vision carries Hunter-Douglas and Graber draperies and Roman shades. So if you still have the old Venetian blinds or pull-own shades, come and visit Interior Vision and have them show you into the 21st century with their uniquely beautiful and unusual collection of window coverings.
There are also some interesting shutters to look at. There is a selection of many different kinds of products, some made of grasses or wood fabric.
Some of their wood fabric slides are made by Honeycutt Verberglide and open side- to-side rather than vertically. They also carry Luminet, modern vertical and they carry fabric draperies. These really unique window slides have to be seen to be believed.
If you need an area rug, you can see some in the store or view online catalogs to select one that is right for your home.
Always community-minded, the Deborah and Bobbie have donated the flooring for the Children's Museum of Discovery at Capitola Mall. Some of the other charities they have supported are the Make-a-Wish Foundation in San Francisco and our local Habitat for Humanity. They have also worked with Housing Matters and the Santa Cruz City School District and Live Oak School District.
Some interesting period projects were in restoring several Victorian homes on Walnut Street and Lincoln Street in Santa Cruz. They have also helped restore a historical house in Capitola. One of their fun projects was running an "Ugly Carpet Contest," where the winner received $1,000 of floor covering.
When asked what it is like working with your mother/daughter, their response was that they have developed a trust in each other so both are working for the best interests of the business and the best part is they get to see each other every day.
For a very interesting experience, come visit their store and meet Deborah and Bobbie. They welcome homeowners, property managers, contractors, real estate agents and commercial business people.
•••
Interior Visions, 2800 Daubenbiss Avenue, Soquel, Monday-Friday: 9 a.m. to 5 p.m. & Saturday: 9 a.m. to 2 pm. 831-476-8780, Interiorvision.biz
(Visited 110 times, 1 visits today)