By John Gavrilis
This past Sunday, the art world lost a great one… This talented gentle lady had so much impact on the people who knew her.
There are so many words to describe Liz. Beautiful (inside and out). Strong yet gentle. Humble. Giving.
Courageous. Generous to a fault. Just ask anyone who knew her well. She also had an incredible sense of humor.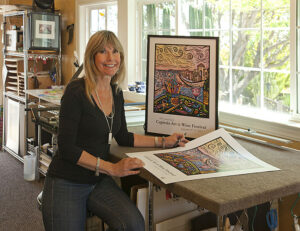 I have been so blessed to have shared my life with her for the past 23 years, although it seems like an eternity. I was so proud just to be in her company.
Her contagious smile says it all.
Liz was so open — sharing information with new artists, trying to get in the art business. She was the go to person if anyone ever needed guidance. She was an accomplished business person who taught art for over 20 years, from Buffalo, N.Y., to Turlock and Union City in California. She used to say, "I taught art to gang bangers, just to keep them off the street." She would often hear from her students years later, who would thank her for changing their lives. She retired from teaching to pursue her own artwork full time.
Her artwork has been used for commemorative art exhibit posters, such as the Capitola Art & Wine Festival, Capitola Begonia Festival, Sausalito Art Festival. See her Facebook page at: https://www.facebook.com/lizlyons.friedman
She was the only Santa Cruz County artist to participate in every Santa Cruz County Open Studios Art Tour since it began in 1986. With all her achievements, she was the most humble person I have ever known.
Liz, fare thee well… I love you more than words can tell… My life will never be the same. I miss you so much.
•••
Editor's note: A native of Buffalo, N.Y., and a resident of Aptos since 1986, Liz Lyons Friedman died April 10 at home at age 73. She had lived with cancer for six years. A celebration of life is being planned for July 31. Watch these pages for details.
(Visited 403 times, 1 visits today)