By Jondi Gumz
It's hard to fathom on top of the epic storm in January, but on March 10, another epic storm broke the 1949 Pajaro River levee before a $400 million funded rebuild could begin, flooding the community of Pajaro across the bridge from Watsonville, forcing 8,500 people to evacuate and prompting President Biden to approve yet another disaster declaration.
Some 50 high-water rescues were made, according to Monterey County, where leaders told residents, "Turn around, don't drown."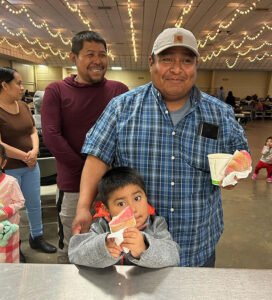 Highway 1, the main route between Santa Cruz and Monterey counties, was closed Sunday, Monday and Tuesday, with opening depending on when the floodwaters recede.
Monterey County officials predicted closing the gap in the levee could take a week or two.
Farm leaders worried this threatened spring crop production in Monterey County, where ag is a $4 billion industry.
At 9 p.m. Tuesday, Monterey County Supervisor Glenn Church posted on Facebook, "The breach is closed" with his thanks to everyone who worked tirelessly to get the job done.
On Wednesday, Caltrans announced Highway 1 northbound would open that night, and southbound Thursday morning.
In record time, working 24/7 overnight, KW Emerson, the state's contractor, completed building a rock barrier at the levee, filling the gap created by the storm.
A team of 24 staff with state engineers worked 12-hour shifts, bringing in 39 truckloads of rock. A second break Monday night a mile from the outlet to the ocean created a relief value, allowing water to flow out, lowering the flood level.
Wednesday, Supervisor Church thanked Gov. Gavin Newsom for coming to Pajaro, "It means a lot."
This is the sixth time Pajaro has flooded, Church said, adding "it's unfortunate the rains came" before the levee rebuilding slated for 2025 could begin.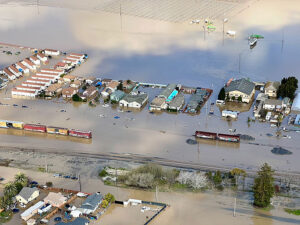 "We've got to fast-track these permits," said Newsom, noting this was the eleventh atmospheric river of the season. "No one has patience for five to seven years."
Newsom asked, "Why wasn't this fixed, this levee, years and years, decades ago?"
The farmworker community didn't have the resources to provide the federally required local 35% match, so Assemblymember Robert Rivas and Sen. John Laird pressed the Legislature to allocate $128 million of state money as the match.
Newsom said United Way got $42 million from USDA to deliver $600 checks to farmworkers not eligible for assistance.
Overgrown Vegetation
Norm Groot, executive director of Monterey County Farm Bureau, contends the Salinas River is at capacity due to sandbar buildup and overgrown non-native vegetation, with levees deteriorating. He blamed reluctance of state and federal agencies to issue permits to maintain the channel.
He explained that once floodwaters recede from fields, food safety protocols could mean a 60-day process to test for pathogens.
March planting will probably be delayed; farmworkers will not have an opportunity to work as usual to support their families.
"Expedite the permits," said Monterey County Supervisor Luis Alejo.
Mexican stars Alejandro Fernandez and MANA announced they will donate part of the proceeds of their Bay Area concerts to the nonprofit Community Bridges to help the people of Pajaro. Details inside.
Pajaro Middle School students have a temporary campus at Lakeview Middle School.
Shelters
The Santa Cruz County fairgrounds in Watsonville is a shelter site for families with students at Hall District and Ohlone Elementary schools. The Santa Cruz County Farm Bureau cancelled the much-anticipated National Spring Ag Luncheon scheduled for March 15 at the fairgrounds.
The Santa Cruz County Emergency Operations Center opened shelters with beds, food, supplies and support at the Cabrillo College gym, 6500 Soquel Drive, Aptos — pets allowed within carriers — and the Veterans Memorial Building 215 E. Beach St., Watsonville.
The County also created a daytime temporary evacuation point at the Scotts Valley Community Center, 370 Kings Village Road, Scotts Valley.
Evacuations are based on zones.
For warnings and orders, see https://community.zonehaven.com.
For shelter information, visit: https://santacruzcounty.us/OR3/ShelterInformation.aspx
After closing schools in Watsonville Friday and Monday, Pajaro Valley Unified School District — the largest in the county — closed all campuses Tuesday; a decision about Wednesday was pending.
Closed Friday: Pajaro Middle, Lakeview Middle, Alianza, Ann Soldo Elementary, Bradley Elementary, Water Charter School of the Arts, Watsonville High School, Renaissance High School and the district office.
Superintendent Dr. Michelle Rodriguez said health and safety of students, staff and families is "our highest priority" and the Santa Cruz County Sheriff's Office recommended the closure, based on another severe storm system with heavy rainfall and wind 40 to 70 miles per hour headed this way, with the potential for flooded roads, downed trees and power outages.
Students were asked to take home their Chromebooks and charge them to be ready for online instruction.
"We recognize physical school closures are a challenge for our students, staff and families," Rodriguez wrote to the community. "Please know that we will assess our school sites, road conditions and weather throughout the day on Tuesday and we will notify all families, staff and community in the afternoon as soon as a decision has been made."
Schools Reopen
At 6:15 p.m. Tuesday, she announced all schools but Pajaro Middle School would reopen Wednesday as the storm was predicted to be less severe. Pajaro Middle School students report to Lakeview Middle School. The PVUSD Transportation Department is providing bus service for Hall District and Ohlone Elementary students to and from the fairgrounds shelter.
Caltrans expected Highway 1 to be closed for two to three weeks, according to Rodriguez.
Santa Cruz County public works crews were busy in Soquel where they rebuilt part of Main Street, washed out by Bates Creek. This is near where the Land of Medicine Buddha is located, cutting off 150 residents.
In Monterey County, part of Highway 1 near Big Sur was closed by a mudslide.
March 16 Deadline
The disaster declaration means that the Federal Emergency Management Agency is authorized to provide 75% federal funding for direct assistance in 34 counties including Santa Cruz and Monterey counties.
This does not change the March 16 deadline to apply for FEMA aid for damages from January's epic storm.
•••
To check state highway conditions, see https://roads.dot.ca.gov/
Photos Credit: Jeremy Lezin
(Visited 49 times, 1 visits today)