On Dec. 3, U.S. Rep. Jimmy Panetta (D-Carmel Valley), his bipartisan congressional colleagues on the Problem Solvers Caucus, and a bipartisan group of senators announced a $908 billion COVID-19 emergency relief framework. The package would provide support to small businesses, local and state governments, students, renters and healthcare providers during the pandemic.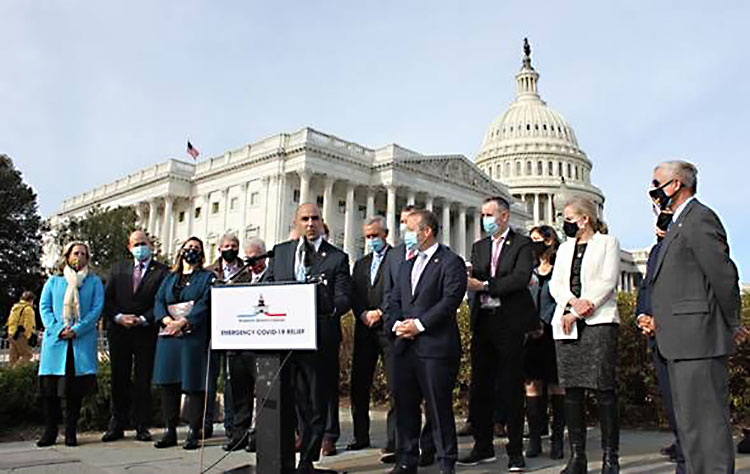 The proposal was formulated and supported by the 25 Democrats, including Congressman Panetta, and the 25 Republican members of the Problem Solvers Caucus in coordination with Senators Joe Manchin (West Virginia), Susan Collins (Maine), Mark Warner (Virginia), Bill Cassidy (Louisiana), Jeanne Shaheen (New Hampshire), Lisa Murkowski (Alaska), Angus King (Maine), Mitt Romney (Utah), and Maggie Hassan (New Hampshire).
The framework of the targeted package allocates $908 billion in total aid, including both new funding and the reallocation of previously appropriated CARES Act funding. The legislation would focus resources to the following key categories:
Paycheck Protection Program including restaurants, stages, and deductibility – $288 billion
State, Local, and Tribal Governments – $160 billion
Additional Unemployment Insurance – $180 billion
Education Funding – $82 billion
Transportation (Airlines, Airports, Buses, Transit, Amtrak) – $45 billion
Healthcare Provider Relief Fund – $35 billion
Nutrition/Agriculture – $26 billion
Rental Housing Assistance – $25 billion
Vaccine Development and Distribution, Testing, Tracing – $16 billion
CDFI/MDI Community Lender Support – $12 billion
U.S. Postal Service – $10 billion
Child Care – $10 billion
Broadband Funding – $10 billion
Opioid Treatment – $5 billion
Student Loans – $4 billion
The $908 billion proposal would provide short-term federal protection from coronavirus-related lawsuits to give states times to develop their own response.
"Right now, there are Americans that are hurting due to this bruising pandemic and damaging economic restrictions. In my community, in addition to the health crisis, people are out of work and small businesses are closing their doors under incredible financial strain," said Panetta. "Our Problem Solvers Caucus bipartisan, bicameral package delivers targeted relief to our country's healthcare providers, families, employees, and employers. It's past time for Congress to play its part, get back to the negotiating table, and provide the needed support for the central coast of California and communities nationwide."
"For far too long, working families, small businesses, local governments, critical health care providers, and school districts across America have been left wondering when Washington would stop the partisan bickering and pass a comprehensive stimulus package," said Problem Solvers Caucus Co-Chair Tom Reed, Republican of New York. "Now, we have a bipartisan, bicameral deal that directly addresses the needs of the nation and best positions the country for an effective rollout of a COVID-19 vaccine. It's time to come together as proud Americans and get the job done."
"This is a win for the American people, for common sense, and for problem solving. With cases spiking, winter around the corner, and countless small businesses closing every day, and far too many families hurting, we simply cannot leave anyone out in the cold. This is an essential down payment on what our families, small businesses, and local communities need," said Problem Solvers Caucus Co-Chair Josh Gottheimer, Democrat of New Jersey. "This four-month COVID-19 emergency relief package will get us through the hardest months of winter and into a new Administration."
•••
A breakdown of the COVID-19 emergency relief framework is at www.manchin.senate.gov/imo/media/doc/COVID%20Emergency%20Relief%20Framework.pdf?cb
A 20-minute recording of the Dec. 3 press conference is at www.facebook.com/ProblemSolversCaucus/videos/3582630518522137/
(Visited 33 times, 1 visits today)