New safeguards have been put in place to protect Californians from fraud within state and federal unemployment insurance programs as ongoing investigations move forward, according to the Governor's Office of Emergency Services, which is working with state's districts attorneys and the U.S. Attorney's Office.

Changes include fraud detection criteria as advised by Thomson Reuters, and a new data-sharing system with the state prison system to halt payments to incarcerated individuals.
Thomson Reuters' Pondera tech division, acquired for $125 million in March, works with many states and is the vendor recommended by the California District Attorneys.
Thomson Reuters' fraud screen identified 3.5 million claims as potentially fraudulent. About 1.9 million of these had been disqualified by EDD and on Dec. 26 EDD stopped payment on the remaining 1.4 million.
Established Nov. 24, the state level coordination group on unemployment insurance fraud — which also includes participation from the Federal Bureau of investigation, the California Department of Corrections and Rehabilitation (CDCR) among others — has worked closely with the California Employment Development Department to employ new tools to strengthen fraud detection.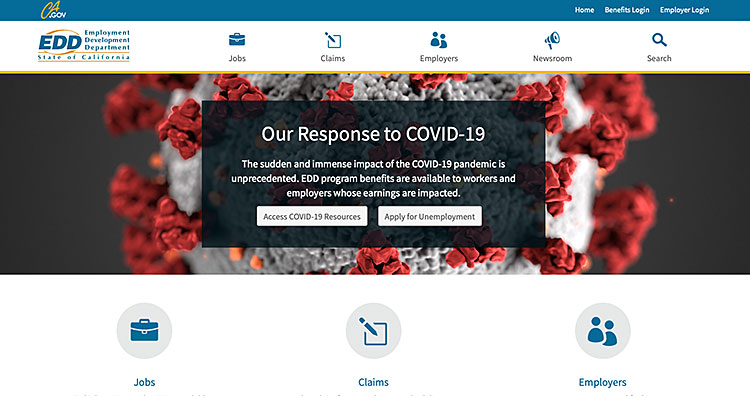 "California is committed to making steady progress to swiftly identify and stop fraud that has occurred during the pandemic within the unemployment benefits system. We thank our local, state and federal partners for their collaborative efforts to date," said Mark Ghilarducci, director of the Governor's Office of Emergency Services.
"A fraud scheme of this magnitude, involving potentially billions of taxpayer dollars and thousands of fraudsters requires a united law enforcement approach. We have built a team of federal, state and local partners, and we are pleased and proud to work with them to investigate and prosecute the fraud arising out of the pandemic," said U.S. Attorney McGregor W. Scott. "We have already indicted multiple defendants, and a large number of cases are in the pipeline."
Anne Marie Schubert, Sacramento County district attorney and statewide task force leader, said, "We continue to be concerned about the staggering fraud that has been committed by incarcerated individuals. However, with the collaboration of Cal OES, EDD, CDCR and law enforcement, we've made significant progress in addressing this fraud. "
Vern Pierson, president of the California District Attorneys Association and El Dorado County District Attorney, applauded efforts of the statewide task force.
"Significant progress has been made by this group, however; we recognize much more work is needed, at all levels of government," he said. "We appreciate the engagement and the unification of effort led by Mark Ghilarducci and Tom Osborne at the Office of Emergency Services in this effort as well as that of CDCR and EDD."
Pierson said CDAA is committed to the developing long-term solutions to fraud by eliminating barriers to effective collaboration and information- sharing.
The efforts of the task force include:
Establishing a joint executive-level multi-agency coordination group to facilitate a unity of effort, coordinate actions and streamline statewide investigative efforts.
Expanding contract between EDD and Thomson Reuters to apply additional industry-standard fraud detection-criteria and act on claims deemed highly suspect or fraudulent.
Allocating $5 million in state funding to support and enhance the investigative efforts of regional District Attorney Task Forces.
Establishing a new data sharing agreement which allows the CDCR to more broadly share information with EDD investigators to accelerate cross-matching of inmate data to more rapidly identify fraudulent claims being made by or on behalf incarcerated individuals. It will also help to identify and eradicate any potential fraud within both the state prison system as well as local jail facilities.
Working with ID.me to strengthen the EDD identity verification process. Since ID.me was launched in October, it has stopped an estimated 30% of claims.
Sharing multi-agency resources to streamline investigative efforts and de-conflict case data across the state to prevent duplication, increase coordination and insure continued collaboration.
Using the state cyber security threat intelligence, big data analysis and threat assessment capabilities to support investigative efforts.
Supporting federal, state and local law enforcement in conducting search warrants, indictments and facilitating arrests of fraud perpetrators.
Increasing collaboration by incorporating regional investigative task force efforts into state-level coordination.
The State level coordination taskforce was created at the Direction of Governor Gavin Newsom.
•••
Organizations participating in this effort include: Governor's Office of Emergency Services, the California District Attorneys Association, U.S. Department of Labor-Office of the Inspector General, Federal Bureau of Investigation, U.S. Secret Service, US Attorney's Office, U.S. Marshals Service, Federal Bureau of Prisons, California Department of Corrections and Rehabilitation and the California Employee Development Department.
(Visited 144 times, 1 visits today)