By Jondi Gumz
Hundreds of people came to Menlo Park, the home of Facebook (now Meta) to join a rally May 19 by Children's Health Defense, in which CHD founder, Robert F. Kennedy Jr., a law professor for 35 years, said he was barred from the Facebook appeals process without explanation.
The case is still in court.
Those attending included Kathleen Lynch of Seacliff, Marilyn Garrett of Aptos and Keith McHenry of Santa Cruz, founder of Food Not Bombs.
Speakers included:
Brianne Dressen, co-chair of react19.org, which is pushing for treatment of vaccine-injured individuals. A healthy preschool teacher and mom of two before she volunteered for AstraZenecea's Covid vaccine, she now uses a wheelchair.
"My life is not misinformation," she said.
Pastor Bob McCoy, Calvary Chapel Church in Thousand Oaks. He had no qualms about vaccines until his grandson was injured after a vaccine.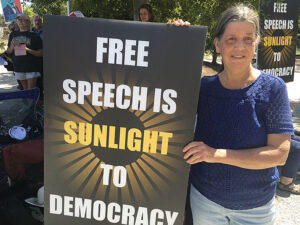 Denise Aguilar and Tara Thornton, founders of Freedom-Angels.org, who are challenging the system and recommending resources to homeschooling parents. Thornton said, "Never let your voice be silenced."
Neil Mammen of Calvary Chapel San Jose said "every Black life matters" and "The truth will come out."
Brian Hooker, PhD, who has a 24-year-old son with autism, posted his own research on Facebook, which got the attention of Facebook fact-checkers. "I am in Facebook jail," he said. "Science is not to be worshipped — It is to be questioned."
Kevin Jenkins, founder of the Freedom Travel Alliance and CEO of the Urban Global Health Alliance, asked for a moment of silence for all those vaccine-injured. "Call a loved one," he added. "Tell them hope has arrived."
Naomi Wolf, an author and journalist, is having researchers vet thousands of pages of documents vaccine-maker Pfizer did not want to release for 55 years and printing these reports o at dailyclout.io, a site she founded.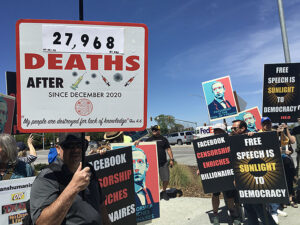 Kennedy Jr., author of the book, "The Real Anthony Fauci," commended Brianne Dressen for creating a community for 19,000 people injured by vaccines.
He admitted he is not always right.
"If we get it wrong, we'll admit we made a mistake," he said.
"Americans ought to be able to criticize their government," he added. "A free flow of information is fertilizer to democracy."
•••
To view a recording of the rally, see https://live.childrenshealthdefense.org/menlo-ca-a-rally-to-stop-censorship
(Visited 56 times, 1 visits today)