Sharon Mahfouz Hadley, 70, known locally as "The Fish Lady," died on June 26. She lived in Soquel.
She was born on Jan. 2, 1952, in Lafayette, Louisiana, and married Mike Hadley on April 8, 2001.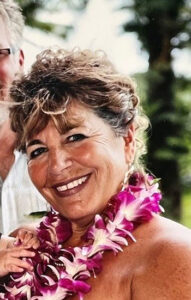 Sharon founded The Fish Lady, a gourmet market where she and Mike, a local musician, enjoyed working together. She enjoyed serving her customers and helping them plan their meals.
The Fish Lady enjoyed 25 years in Soquel at 2510 S. Main St., hosting Friday night wine-tasting and live music. In August 2019, The Fish Lady, moved to Capitola, next to Capitola Produce.
Sharon was known for her love of God and her family. She enjoyed gardening, cooking and entertaining with Southern hospitality.
She will be deeply missed by all her family and friends.
She is survived by her husband, Mike Hadley; her children, Casey Cowden (Joezette), Lacey Cowden (Daniel); grandchildren Cassia and Cash Cowden; stepchildren Nate Hadley (Lani), Caleb Hadley (Kaylee), Cassandra Grubbs (Joe); step-grandchildren Robby Hadley, Braeden and Olivia Grubbs; sisters, Sandra Mahfouz Delhomme (Duane) and Michelle Mahfouz; brothers Raymond Mahfouz, Jr. (Judy) and Stafford Mahfouz (Janet); her beloved fur baby, Lazarus; and numerous nieces and nephews.
She was preceded in death by her parents, Raymond and JoAnn Mahfouz; brother Louis Mahfouz, Sr.; and a niece, Alexandra Dominque.
Pastor Todd Menard of Family Life Church conducted the funeral services July 6 at Delhomme Funeral Home's Chapel of the Flowers, Lafayette, Louisiana. Entombment was in Calvary Mausoleum.
A local service will be at 11 a.m. Friday July 15 at Twin Lakes Church in Aptos.
Donations are preferred to www.milelehome.org, which provides restorative care to the street children of Kenya.
(Visited 403 times, 1 visits today)