By June Smith
If, like most of us, you have been working from home during the pandemic, has your family noticed the need for a renovation? If so, who should you call? The Skylight Place, that's who!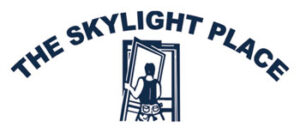 The Skylight Place is a full-service one-stop glass shop. Insured, licensed & bonded, they offer residential and commercial glass repair, shower doors, skylights, window screens. and window replacement. Their mantra … "We Cut Glass, Not Quality."
The business was founded by Rick Burger, assisted by son Paul Eastman, who says, "The pandemic has actually increased our business. When the shutdown first started, we were really slow, but a few weeks after, we noticed an increase in business, with everyone working from home. Suddenly fixing up the house was now the priority instead of taking vacations. We have hired four new employees since Covid started, and yeah, we did take advantage of the Paycheck Protection Program loan. It really helped us make up the losses we had when the pandemic started."
"Supply chains are a constant issue," Burger adds. "My lead times for windows are now anywhere from eight to 28 weeks, while before Covid they were from two to eight weeks."
Often, his manufacturers are not shipping for the complete job.
"With the cost of materials and inflation on the rise I see it might be more challenging for many homeowners to do home improvements but at some point, it has to level out," he says.
Servicing Santa Cruz County since 1971, The Skylight Place offers prompt, reliable service, priding themselves on expert installation and getting the job done right the first time. When you visit their shop on Capitola Road you will be greeted by Butter, the resident Malti-Poo, who when escorting you out, easily entices you to take him home.
The shop features major brands, including Cardinal shower enclosures, Velux skylights, Marvin windows and doors, Western Windows Systems, All Weather Architectural Aluminum, and the highly regarded Milgard windows and doors. The owners say they are proud the Milgard company approached them to feature their products.
A commercial property served several years ago was the Marriott Fairfield Inn and Suites on 41st Avenue in Capitola. More recently, they have provided entry doors for Dignity Health in Watsonville and shower doors for Googleplex, the corporate Google headquarters in Mountain View.
Matt Slatter, president, Slatter Construction Inc, says," We love The Skylight Place and have worked with them for decades on projects for the Boardwalk, Palo Alto Medical, New Leaf Market, and dozens of others. We started working with them when my dad was president in the '80s and '90s. I took over in 2020 after my brother passed away and we still continue a great working relationship with them."
During a bathroom remodel, Courtney Barrett and her husband Michael of Santa Cruz contacted The Skylight Place. She hadn't found mirrors she liked to fit the space, and Michael suggested the shop as he had purchased mirrors there for his gym in the past.
She found the staff to be helpful, asking which thickness she wanted and explaining that thicker mirrors have a truer reflection. She chose the 1/4-inch thickness and is very pleased with them.
Another local couple, Elizabeth Charlton and Jim Furlong had the Skylight team install mirrors on two entire walls when turning their extra upstairs bedroom into a gym.
Furlong said, "The guys pulled up with the mirrors on glass racks and carried them up with giant suction cup handles. They installed them all with perfect measurements, added trim, and today they are a main feature in Elizabeth's 'She Room' which she uses for her Zumba practice."
They have referred the business many times over the years.
•••
The Skylight Place
4850 Capitola Road, Capitola • 831-476-2023
Hours: Monday-Friday 9-4
Online estimates and onsite service available: http://www.skylightplace.com/
Credit cards accepted
(Visited 94 times, 1 visits today)