Flipped Car Closes Aptos Creek Road & State Park for an Hour
By Jondi Gumz
When a solo driver headed to Nisene Marks State Park flipped her car upside down on Aptos Creek Road, the only entry and exit for the park, she was trapped inside.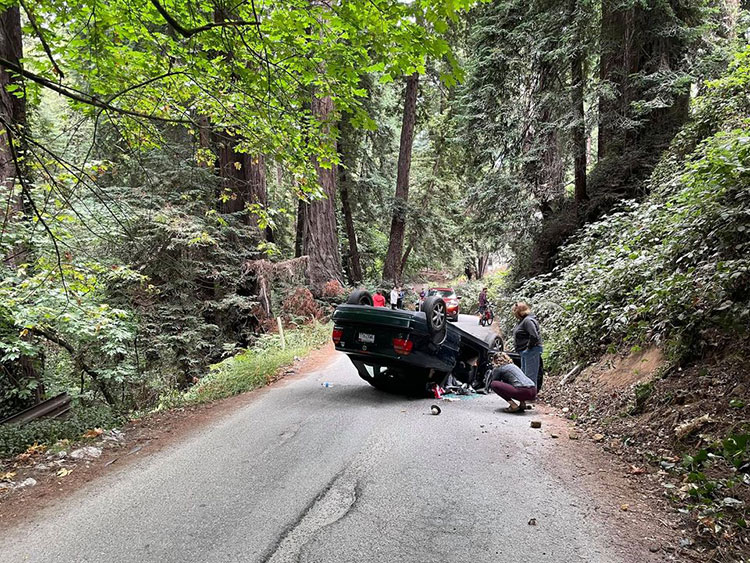 Visitors and staff at the state park were trapped, too, as the park closed for more than an hour as rescue personnel worked to free her.
The incident happened at 1:57 p.m. Thursday, July 29. The park reopened at 3:11 p.m.
Todd Marco, a resident of Aptos Creek Road, was the first on the scene.
His adrenaline surging, he called 911, and first responders were on their way.
"She was in a convertible," he said. "I couldn't tell, it was crushed so bad. After they flipped it, she was stuck in her seat. Her seatbelt probably saved her life."
Marco, founder of the Nisene Rio Gateway, a group on Facebook with 370 members, is concerned about safety on Aptos Creek Road, a one-time logging road — narrow and lacking guard rails, a pedestrian path or bike lanes.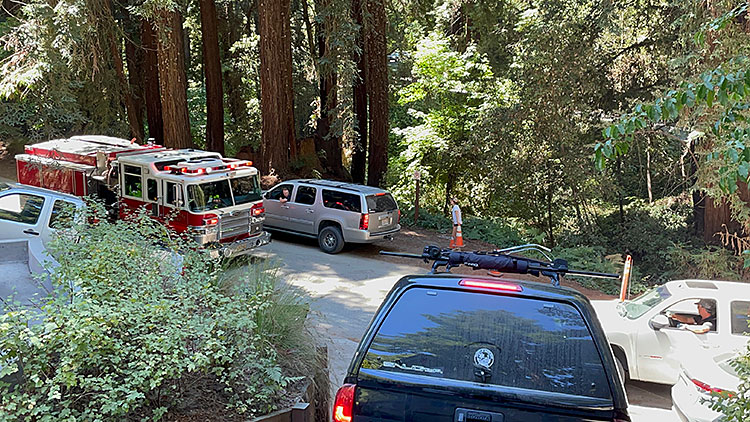 The car smoked but did not catch fire. It could have rolled down into the steep forested gulch, which would have made extrication more difficult, but it didn't. Staff at the entrance kiosk managed the crowd that built up, people whose plans were put on hold.
"It could have been so much worse in so many ways," Marco said. "We absolutely should take it as a wakeup call."
The Aptos Times began focusing on safety issues on Aptos Creek Road and Nisene Marks State Park in January after more and more visitors began seeking relief from the COVID-19 pandemic in the forest.
Had this happened on a weekend, many more people would have been affected.
Not Enough Money
State Parks improved sections of the road after residents in February pointed out potholes were creating hazards, but budgeted money went only so far, especially with the agency working to reopen Big Basin State Park, damaged by the CZU lightning fire last year.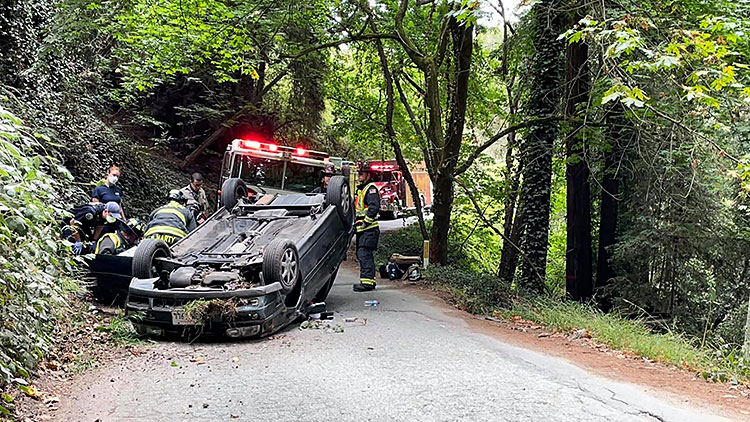 "Although we've made progress, we have a long way to go," said Patrice Edwards, Aptos Times publisher and a resident of Aptos Creek Road. "Because maintenance of the park has been deferred for so many years."
She added, "We need to continue to shine the light on this problem and get it resolved to make a safer, more user-friendly park for everyone."
Two days after the car flipped, at 1:35 p.m. Sunday, Aug. 1, a fatality occurred at the state park.
Michael Arehart, 60, of Pacifica, died Sunday afternoon while biking on the Nisene Marks trails. He was a member of the British Cycling Association.
Santa Cruz County Coroner Stephany Fiore said Arehart died from a heart attack.
"He had bad coronary artery disease, which doesn't allow the heart to get enough blood flow and oxygen during strenuous exercise like he was engaged in — biking up a steep hill.  This is, unfortunately, not uncommon in his age group.  From reviewing his medical records, I know he had been experiencing chest pain while biking over the past several months and his doctor told him he needed to get that checked out right away … I don't know if he followed up."
His colleagues at San Francisco-based Tech Soup, where he was director of business analysis, were grief-stricken.
Marco saw emergency vehicles entering the park responding to the call.
He was pleased to report exiting traffic pulling into his driveway and the clearing across the street, making way for rescue personnel to get through. Earlier this year, he had observed park visitors ambling on despite fire engines behind them, lights on.
What Happened
When he posted the photos he took, members of Nisene Rio Gateway began asking how could this situation be prevented.
"No one witnessed the conditions under which this person was driving," he said.
However, having walked the site and taken photos, he has an idea what happened.
The road in the 10,000-acre state park is wedged in between a steep hillside and a steep gulch.
This stretch, crumbling from erosion, has a pothole a couple yards long in the middle.
"Perhaps she moved further to right to avoid getting in that pothole," Marco said.
He theorizes the tire on the passenger side went off the roadway and hit a storm drain not visible to motorists, propelling the Volkswagen into the air, with the fender hitting the hillside, damaging the bumper.
"That's what caused it to flip," he said.
He said he asked the park's maintenance chief about repairing this area, and was told the cost estimate was $90,000.
"This is something clearly in need," Marco said, noting State Parks have significant budget constraints. "They've been doing a great job with what they have."
He added, "It is important to highlight the issue and work together to figure out some solution. This is what motivated the founding of Nisene Rio Gateway… We need to fundraise for these things."
While emergency personnel worked to extricate the driver trapped in her car, Marco biked up Aptos Creek Road to the Bella Loma emergency egress by the Steel Bridge to see if that gate could be unlocked, providing another way out of the state park.
The gate at 1695 Aptos Creek Road was locked, and no one was at home.
For Marco, that posed another question about emergency evacuation if case of a wildfire closing Aptos Creek Road.
He requested on behalf of Nisene Rio Gateway that the gate remain closed but unlocked and a new sign added stating, "PRIVATE PROPERTY — EMERGENCY EXIT ROUTE ONLY."
He added, "I'm happy to pay for and install this sign."
State Park Superintendent Joe Walters, who oversees 29 parks, when asked the situation, said, "If there is a wildfire, we definitely have emergency evacuation routes."
On the other hand, if there is a vehicle accident on the road, he said, "People in the park are going to be delayed leaving the park."
•••
Photos: On July 29, a VW convertible headed into Nisene Marks State Park overturned with the driver inside, blocking Aptos Creek Road, trapping state park visitors and staff and all the residents with homes on the road for more than an hour. • Photos Credit: Todd Marco
(Visited 298 times, 1 visits today)