California Governor Wants Schools To Reopen
By Jondi Gumz
In 10 days, while some families observed Hanukkah and others celebrated Christmas, the contagious coronavirus COVID-19 claimed 13 more lives in Santa Cruz County, bringing the deadly toll to 83.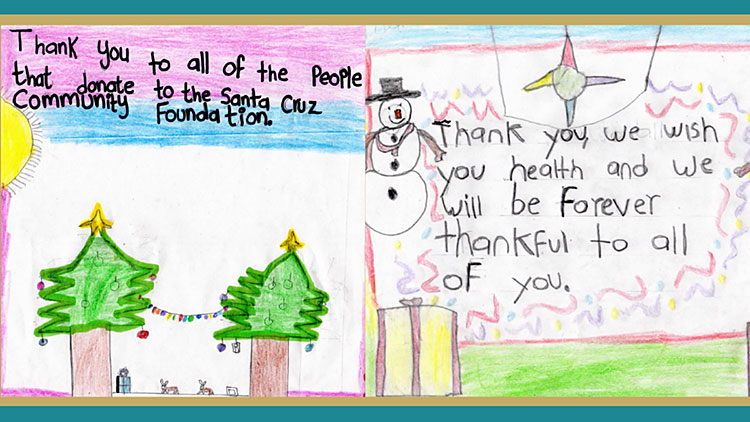 For a growing number of local families, their holidays meant mourning the loss of respected elders due to COVID-19 as the virus is most deadly for people 80 and older. Two-thirds of the deaths have been in nursing homes, where visits have been halted for many months in an attempt to stop the virus from spreading.
Statewide, more than 25,000 deaths are attributed to COVID. Two days last week, the state reported more than 400 deaths a day. Hospitalizations in most of the state are up to the point of overwhelm, resulting in staffing shortages; the state asked for federal help and on Thursday deployed 1,280 federal, state and contracted personnel to deal with the surge.
On Dec. 30, Gov. Newsom proposed to earmark $2 billion in unexpected state revenue as an incentive for elementary schools to pay for testing, ventilation and personal protective equipment to resume in-person instruction as global research shows younger children get COVID less often than adults, not many outbreaks occur at schools and children do not appear to be major sources of spreading the virus. He's proposing $450 per student, and more for English learners, students from low-income families, and foster youth.
Legislators will discuss how to spend the state's $26 billion windfall — from a faster than expected recovery — in January.
On Dec. 30, the California Fitness Alliance, representing gym owners, learned Los Angeles Superior Court Judge Mark Mooney declined to dismiss their lawsuit against the state contending the shutdown of indoor fitness in July was arbitrary and capricious. The next hearing will be Feb. 3.
The state issued a stay-at-home order Dec. 18 for the Bay Area, which includes Santa Cruz County, to preserve capacity at hospital intensive care units. The earliest the order could be lifted is Jan. 8, and for that to be considered, the Bay Area region would have to have 15 percent ICU capacity; on Dec. 31, it was 8.5 percent.
Spreading by Gathering
Because this new coronavirus is so contagious and easily spread when unmasked people eat together or sing together, Santa Cruz County health officials advised celebrating with your own household instead of a multi-generational holiday gathering and advise being outdoors and active (such as walking) is safer than indoors.
The City of Santa Cruz sent out a reminder asking people to stay home for New Year's as downtown festivities will not take place this year.
Private gatherings for Thanksgiving led to a spike of COVID cases on Dec. 7 in Santa Cruz County, with 100 or more people a day reporting symptoms six days in a row.
A new record was set Monday, Dec. 14, when 235 people reported symptoms. That week saw a burst of new cases, 169 people on Tuesday, 159 on Wednesday, 181 on Thursday, and 140 on Friday before easing off on the weekend.
On Monday, Dec. 21, another 165 people reported symptoms, followed by 175 on Tuesday, 157 on Wednesday, and 121 on Thursday, Christmas Eve.
77 Hospitalized
On Jan. 1, a record 77 COVID patients were hospitalized in the county.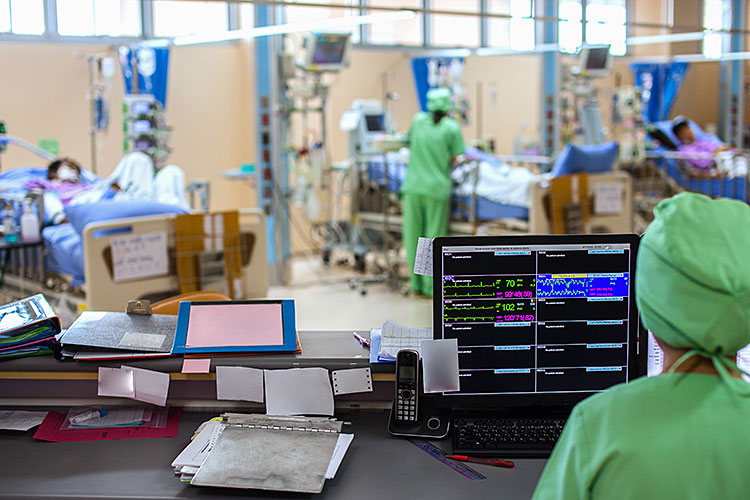 That  number is twice as many as the 35 on the day after Thanksgiving.
Eighteen COVID patients spent Christmas in the Intensive Care Unit, the most since Nov. 4, when 20 COVID patients were in the ICUs.
Those numbers remain high, with 17 COVID patients in the ICU on Dec. 30.
On Dec. 31, the case count was 8,747, with 2,383 active — a slight increase — in the last two weeks requiring contact tracing. The county has increased staff to do that work, with more than 40 people investigating cases and more than 40 people tracing contacts, and notifying them of exposure.
The priority is nursing homes, as all seven in the county have had cases, the jail, and high-risk zip codes, such as Watsonville, which has 55 percent of the county's cases.
One positive sign is that the caseload in the Latino community has declined from 66 percent initially to 55 percent.
Santa Cruz County Health Official Dr. Gail Newel said she wouldn't see her mother, who is 86 and at higher risk from COVID, at Christmas due to the regional stay–at-home order.
Staffing Issues
There are 22 ICU beds in Santa Cruz County, 16 at Dominican Hospital in Santa Cruz and 6 at Watsonville Community Hospital. It's possible to add beds, but staffing the beds would be a challenge due to the demand for ICU nurses through the region and the state.
Often, people hurt in car local crashes are taken to trauma centers in Santa Clara County, but COVID has limited the ICU capacity there as well.
The new Pfizer vaccine for COVID-19 has been distributed to frontline workers at Dominican Hospital and Watsonville Community Hospital but nurses at both locations object to the state's staffing solution, allowing hospitals to increase their workload.
The state policy change allows hospitals to request a waiver to assign a single nurse, instead of two nurses, to care for three patients in critical condition or up to six non-critical patients (instead of four).
The California Nurses Association blasted the move and nurses demonstrated at Dominican and Watsonville Community Hospital two weeks ago. It's not clear whether waivers have been requested for either location.
On Dec. 29, firefighters and emergency service workers from 13 agencies in Santa Cruz County got the new Moderna vaccine for COVID-19 in an event staged at Watsonville Community Hospital. Four Cal Fire CZU employees have tested positive, with those cases due to exposure in their households rather than the workplace, according to Chief Ian Larkin.
Police and deputy sheriffs are next in line for the vaccines.
Stay at Home
The stay-at-home order, which prohibits private gatherings of any size, also ended outdoor restaurant dining, shuttered hair salons, barbershops, wineries and breweries, restricted retail stores to 20 percent capacity, forced non-essential office workers to work remotely and limited churches and protests to outdoor activities only.
The earliest the order could be lifted is Jan. 8, and for that to be considered, the Bay Area region would have to have 15 percent ICU capacity.
The regional percentage was 10.4 percent capacity as of Tuesday.
Even as the number of deaths increase, the number of negative COVID tests keeps growing — 93,912 as of Thursday as testing becomes more readily available.
A new OptumServe site offering free testing opened Dec. 21 at the Santa Cruz Civic Auditorium, 307 Church St., Santa Cruz. The state-sponsored site operates from 7 a.m. to 7 p.m. Monday through Friday and can process 165 daily tests. No walk-ins are allowed. To make an appointment, go to https://lhi.care/covidtesting or covid19.ca.gov/get-tested/.
The same website can be used to make an appointment at the OptumServe testing site at Ramsay Park in Watsonville, which is now open seven days a week.
Community Aid
The pandemic wiped out 18,600 jobs compared to a year ago, according to the count taken on Nov. 12, with agriculture, hospitality/food services and government reporting devastating losses.
Unemployment, which was 11 percent in July, is down to 6.7 percent but that is largely because the workforce is smaller — people have given up trying to find a job in the COVID economy.
The nonprofit Community Foundation Santa Cruz County, which began raising funds to meet needs created by the pandemic, has granted $4.9 million to local nonprofits to assist residents, largely with basic needs such as rent and food.
Among the recipients are Community Action Board of Santa Cruz County, $774,700, Center for Farmworker Families, $772,000, Senderos, $557,000, Community Bridges, $338,000, Santa Cruz Community Health Centers, $223,000, Catholi8c Charities Diocese of Monterey, $210,000, Second Harvest Food Bank, $120,000, Pajaro Valley Loaves & Fishes, $117,000, Salvation Army of Santa Cruz, $115,000, Hospice Santa Cruz County, $100,000, Grey Bears, $136,600, Monarch Services, $103,000, Dientes, $100,000, Salvation Army of Watsonville, $85,000, St. Francis Soup Kitchen, $45,000, and Valley Churches United Missions, $25,000, DigitalNEST, $10,000.
In addition, since school closures were announced on March 12 due to COVID-19, donor advisors have granted $5,573,144 to their local, regional, and national nonprofits.
Gifts postmarked by Dec. 31 were eligible for the 2020 tax year, and eligible for a special tax deduction of up to $300 due to the CARES Act. Congress just extended this tax deduction provision for 2021.
On Dec. 28, the Santa Cruz County Public Health Division reported 13 more deaths in the past 10 days, bringing the total to 83 deaths from COVID: 72 percent had underlying conditions, 69 percent were residents of nursing homes or care homes for the elderly, 66 percent were age 80 or older, and 57 percent were women.
Asked why COVID has been fatal for more women than men, public health spokeswoman Corinne Hyland noted women tend to live longer than men, so their ages put them at higher risk for the virus.
On Dec. 28, the county reported its youngest COVID death. According to county spokesman Jason Hoppin, a Latina woman in her 30s died of the coronavirus Dec. 17 although she had no significant underlying health conditions.
County employees were on furlough 11 days in 2020, including Dec. 28-31, due to financial impacts from COVID-19, and will be on furlough eight days in 2021.
•••
County COVID Deaths
As of Dec. 28
Age
90 and up: 31 • 80 to 89: 24 • 70 to 79: 14 • 60 to 69: 10 • 50 to 59: 2 • 40 to 49: 1 • 30 to 39: 1
Race/Ethnicity
White: 42 • Latinx: 30 • Asian: 5 • Black: 1 • Other: 1 • Unknown: 4
Underlying Conditions
Yes: 60 • No: 23
Skilled Nursing/Residential Care
Santa Cruz Post Acute: 19 • Watsonville Post Acute: 16 • Pacific Coast Manor: 12 • Hearts & Hands Post Acute: 6 • Montecito Manor: 2 • Valley Convalescent: 1 • Maple House II: 1 • Total: 57
Gender
Male: 36 • Female: 47
COVID Cases By Town
Aptos: 396 • Ben Lomond: 58 • Boulder Creek: 74 • Capitola: 215 • Felton: 75 • Freedom: 535 • Santa Cruz: 1,935 • Scotts Valley: 201 • Soquel: 194 • Unincorporated: 99 • Watsonville: 4,804 • Under investigation: 163
Total: 8,749
Source: Santa Cruz County Public Health
•••
Editor's Note: Would you like to share your family's COVID-19 story? Email Jondi Gumz at [email protected] or call 831-688-7549 x17.
To read the governor's school plan, see www.cdph.ca.gov/Programs/CID/DCDC/Pages/COVID-19/Safe-Schools-for-All-Plan-Rationale.aspx
(Visited 41 times, 1 visits today)