COVID Death Toll Rises to 148 in County
By Jondi Gumz
Health insurance giant Blue Shield of California is going to be in charge of the state's COVID-19 vaccine distribution network, a move the Newsom administration made to speed up the fractured and lagging rollout, frustrating local residents.

Kaiser Permanente, the state's largest health plan, will be part of the effort, but details about the roles the two nonprofits will play have not been made available.
Locals are still asking "how do you get a vaccine?" because the supply locally has been erratic and inadequate.
Meanwhile, Gov. Gavin Newsom's proposal to earmark $2 billion for schools for COVID-19 testing to encourage reopening, starting with the youngest grades at elementary schools, and setting a Feb. 1 deadline for safety plans has been dismissed by the California Teachers Association and large districts as arbitrary and unrealistic.
On Jan. 25, Newsom lifted the stay-at-home order after intensive care unit availability projections surpassed the required 15 percent, bringing some relief to local businesses such as restaurants and hair salons, whose operations had been curbed since Dec. 3 with the goal to slow the spread of the contagious coronavirus during the holidays.
Then Newsom tapped Yolanda Richardson as the new vaccine czar and announced a statewide eligibility system based on age starting in mid-February and a website, https://myturn.ca.gov where people can learn where they can get a shot.
Newsom also signed SB 91, extending the state's eviction moratorium til the end of June.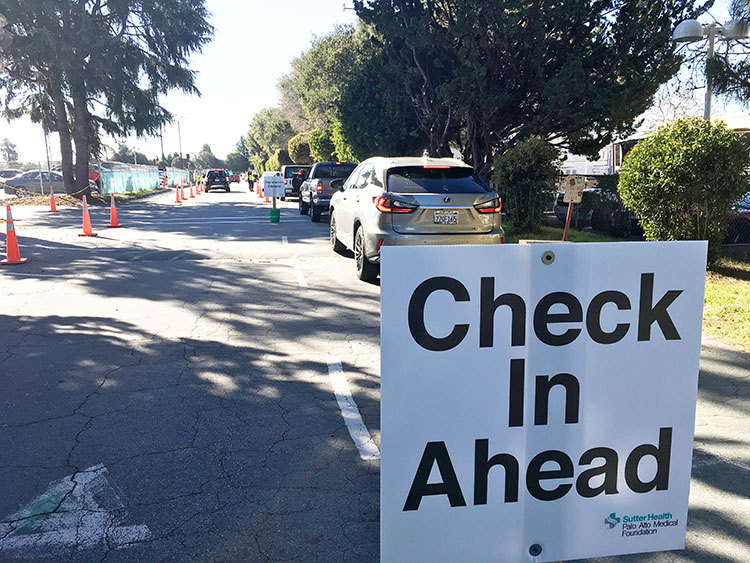 The state will cover 80 percent of rent missed from April 2020 through March 2021 as long as the landlord forgives the rest of what's owed and does not pursue eviction. If the landlord disagrees, the state will cover 25 percent of the back rent, which would keep the tenant from being evicted. Santa Cruz County is seeking $8 million in federal funds to provide rent aid locally.
COVID-19 has claimed the lives of 40,908 Californians and 148 Santa Cruz County residents, with the death toll highest at nursing homes and assisted living facilities. Locally, 64% of deaths are at care homes; 77% had other health conditions.
The surge of post-Christmas and post-New Year's cases seems to be over. In Santa Cruz County, cases per day peaked at 264 on Jan. 4 and have fallen to 100 or below, comparable to before Thanksgiving.
There are 1,717 active cases. The virus spreads mainly via gatherings of friends and family, 78 percent from one household member to another. The Scotts Valley Chamber of Commerce is entreating residents to not invite guests over, which could limit spread and allow more businesses to reopen.
People living in "overcrowded" conditions — more than one person per room — are particularly susceptible, and such conditions are pervasive in Santa Cruz County, where housing is among the most expensive in the nation. College student rentals are often crowded, and in Watsonville and in the Santa Cruz Beach Flats, multi-generational households are common, or families double up or rent out rooms to afford a place to live.
Local COVID hospitalizations are down from a peak of 84 after New Year's to 44 on Jan. 28, and 12 people are in ICU beds, down from 20 after New Year's, giving hope that the worst may be over.
Business Woes
Local small businesses are in dire straits, judging from a City of Capitola survey that found 58 of 132 businesses said they are in danger of closing in next 12 months.
Eight said they would close in 1-2 months, 18 in 3-4 months and 33 said they're not sure how long they can stay open.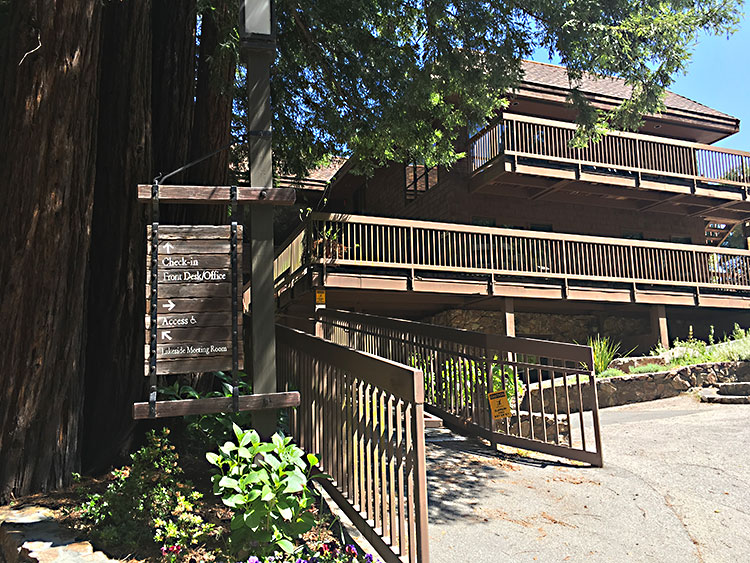 Asked to elaborate, 81 cited a decline in consumer demand; only 12 have seen their business increase.
Because of COVID, 71 are closed temporarily.
Most got some federal aid, 40 got SBA disaster loan, 62 got Payroll Protection Program forgivable loan, 40 got an SBA disaster loan that must be repaid, and 20 got Pandemic Unemployment Assistance.
To survive, they want grants — not loans — lower fees and lower rent.
One venue reported 33 weddings on the books in 2020 were cut to 5 and scaled down — "We schedule 2021 but it's only penciled," the owner said.
A variety of businesses responded, 23 salons/massage, 21 in food/wine, 20 retailers, and 18 catering to tourists with the rest in other sectors.
A whopping 86 would take a city grant from federal funds if offered, with 39 saying $15,000 to $20,000 would help.
The Capitola City Council proposes to award $320,261 CARES Act relief funds on Feb. 11.
A council ad hoc committee proposed 30 small business awards of up to $7,500 to cover rent and utilities for three months, and grants of $15,000 each to Grey Bears, Second Harvest Food Bank, and Community Bridges' Meals on Wheels.
Community Foundation Santa Cruz County awarded 38 grants of up to $5,000 to small businesses in the CZU fire burn zone, a total of $144,000. Some Scotts Valley businesses applied but their losses from a week's evacuation were dwarfed by those in the burn zone.
Scotts Valley business owners can tell the Economic Recovery Council of Santa Cruz County how they have been impacted by COVID-19 in a survey that closes Feb. 12: www.surveymonkey.com/r/COVID19ERC
When's My Turn?
The vaccine rollout, which started in mid-December and divided responsibility among hospitals, large medical groups, pharmacies, safety net clinics, and independent providers, left local residents in the dark.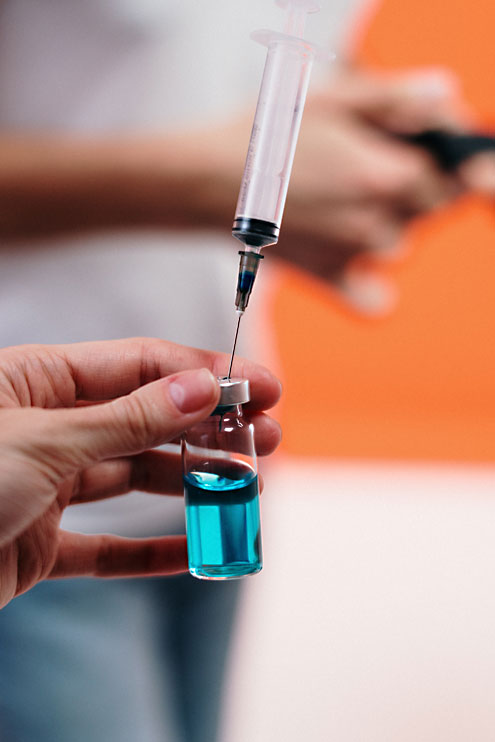 They asked their neighbors on the social network NextDoor for insights, puzzled why the distribution was so slow.
The Pfizer and Moderna vaccines require two doses, so some was held back for that second shot.
Everyone knew healthcare workers should be first in line, and in Santa Cruz County that's 14,700 people in "phase 1A."
When the Trump administration, eight days before leaving office, called for states to allow people age 65 and older and those with health conditions to be eligible, the question on NextDoor became "When is my turn?"
California's answer, using technology from Salesforce and Skedulo, is https://myturn.ca.gov.
Piloted in San Diego and Los Angeles counties, MyTurn allows people to sign up for a notification of eligibility and schedule a shot when it's their turn.
The official title for vaccine czar Yolanda Jackson is secretary of the Government Operations Agency. She procured personal protective equipment and led the team to transition state employees to work from home. She has health plan leadership experience and is known for her "get it done" style.
Supply Shortage
Locally, the biggest obstacle to providing vaccine to more people is the unpredictable supply.
Mimi Hall, director of the Santa Cruz County Health Services Agency, said one week 200 doses came in, the next week 2,000.
So she's been reluctant to schedule vaccinations for people over 65 and over 75, she said a press conference on Jan. 22.
"We don't have enough supply for everyone who wants one," she said.
To prioritize people in Watsonville, which has 53 percent of the COVID cases, the county started a free drive-through vaccine clinic at the fairgrounds in Watsonville. Hours are Mondays from 10 a.m. to 4 p.m. and Tuesday through Thursday from 9 a.m. to 4:30 p.m. It's by appointment. Register at mhealthcheckin.com/covidvaccine to find out if appointments are available.
Once the fairgrounds site has a steady supply, Hall expects to be able to vaccinate 1,000 people a day.
At that rate, it would take some time to reach the 47,000 county residents who are 65 and older.
Hall expects the supply to improve once vaccines by Johnson & Johnson and AstraZeneca are available.
Johnson & Johnson reported on Jan. 29 that its one-shot vaccine, which doesn't require cold storage, was 66 percent effective at preventing disease, with its chief scientific officer saying it's 85 percent effective against severe disease and complete protection against hospitalization and death.
The UK has approved the one-shot AstraZeneca vaccine, and a clinical trial in the U.S. with nearly 30,000 people is ongoing. Dr. Gail Newel, the Santa Cruz County health officer, expects FDA approval in April or May.
California held up a batch of Moderna vaccine for a few days over questions about allergic reactions, then determined it was safe.
People who want a vaccine won't be able to pick a brand because it depends on what's available, according to Dr. David Ghilarducci, the Santa Cruz County deputy health officer.
Medical Groups
Large medical groups such as Dignity Health Dominican Hospital, Sutter Health and Kaiser Permanente have been getting their own vaccine supplies but county officials don't know how many vaccinations have been given, getting only a total for the corporation as a whole, not a county figure, and not knowing how many vacations have been given at nursing homes via pharmacies such as CVS and Walgreens.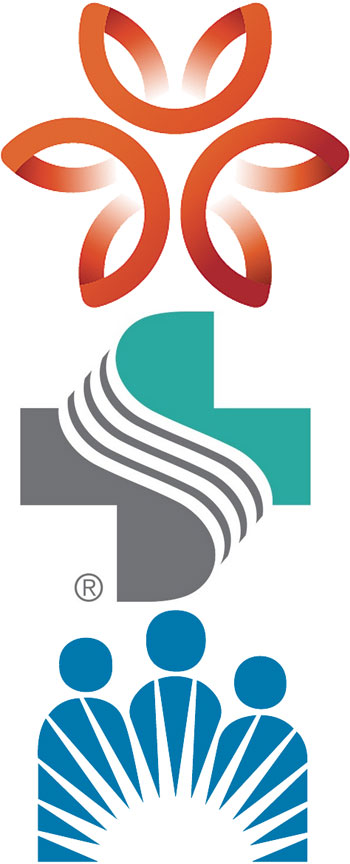 "It's kind of a blind spot," Ghilarducci said.
Dominican Hospital shed light on the situation, announcing Jan 22, that it has given 5,000 COVID-19 vaccinations to Phase 1A health care workers in Santa Cruz County.
That's going beyond its own staff.
Dominican focused initially on frontline clinical staff, then offered vaccine to all hospital employees and affiliated physicians. Nearly 80 percent—more than 2,000 hospital staff members —who wanted the COVID-19 vaccine have received it, with many already having been administered their second and final dose, according to Dominican.
Then Dominican opened up its vaccination clinics to frontline health care workers across the community — including paramedics/EMTs, hospice workers, behavioral health and safety net clinic staff, mortuary services employees, and staff in local physician offices. All told, the hospital reports nearly 3,000 vaccinations for essential workers.
"Our health care team has faced months of unimaginable adversity and exhaustion," said Dr. Nanette Mickiewicz, president of Dominican Hospital. "Yet, when asked to help get the COVID-19 vaccine to as many of their clinical colleagues in the community as possible, they didn't think twice. They dug deep and responded with an enthusiasm I didn't think was possible."
Newel applauded Dominican's efforts, saying, "They are helping to pave our path out of this historic emergency."
The big medical groups are creating drive-through clinics to provide vaccine to their patients.
Capitola residents Molly and Micky Ording applauded Dignity Health's drive-though clinic at Harbor High School in Santa Cruz, calling the experience joy-filled, efficient and stress-free.
Dr Steve Magee , president of Dignity Health Medical Group – Dominican, reported providing 200 vaccines per day at Harbor High School to a total of 800 patients who meet the state and federal eligibility criteria and have a Dignity Dominican primary care doctor.
His goal is to revamp up to 400-800 patient vaccinations per day as supply allows.
The drive-through site is by appointment only, with hours from 2 to 5 p.m. Wednesday through Friday and 9:30 a.m. to 5:30 p.m. Saturday and Sunday. Patients can schedule by calling 831-288-6526 between 8 a.m. and 5 p.m. or send a portal message to their doctor.
More hours will be added in February if vaccine supplies are adequate.
On Jan. 14, Sutter Health, parent of the Palo Alto Medical Foundation and a large provider in the county, set up a drive-through vaccine clinic in the former drive-in-turned flea market on Soquel Drive, a property Sutter Health owns.
The drive-through operation is open only to Sutter patients by appointment, and Kathy Cheer of Santa Cruz raved, calling it effortless.
Newel said Kaiser has also opened up its "phase 1A" vaccinations of health care workers and residential care workers to serve people outside of its insurance plan.
On Jan. 20, county officials announced a partnership with Safeway to help distribute vaccine to health care workers, providing 1,200 doses for four stores to be used for those eligible. Safeway agreed to provide scheduling support to accommodate up to 500 people a day at a location to be announced.
Partnerships with pharmacies and dental offices are being explored.
One misstep occurred when Dr. Newel, the Santa Cruz County health officer, ordered a suspension of elective surgeries at hospitals and ambulatory surgery centers on Jan. 5 as ICU capacity was shrinking.
Three days later, she amended her order to be less restrict and match the state health officer's order, and on Jan. 17, she rescinded the order altogether, allowing elective surgeries and procedures to resume.
Even though the stay-at-home order is lifted, a travel advisory remains in effect, with the state encouraging people to skip visits more than 120 miles from home to slow the spread of the virus.
People arriving in California should self-quarantine for 10 days, based on a change in federal guidance from 14 days.
What Can Open
Santa Cruz County is in the Purple Tier, as it was back in early December.
Outdoor restaurant dining and winery food service outside is allowed, although few people ate outside when mega-storm swept through.
Hair salons, barbershops and nail salons can open, so can massage services.
Retail and shopping centers are allowed at 25 percent capacity; food courts are closed.
Of courses, masks and social distancing are still required to prevent spreading the virus.
To see what business activity is allowed, read "Blueprint for a Safer Economy" at  www.cdph.ca.gov
Places of worship can have services outside. A federal appeals court ruled in January against South Bay United Pentecostal Church in San Diego County, which argued the ban on indoor worship was discriminatory.
The state presented evidence that large groups gathered indoors for an extended period, singing and chanting, pose risks that justify a ban to protect the public from COVID.
According to the San Francisco Chronicle, Judge Kim Wardlow said, "It is difficult to see how allowing more people to congregate indoors will do anything other than lead to more cases, more deaths and more strains on California's already overburdened health-care system."
To move into the less restrictive Red Tier, where restaurants and fitness centers could open indoors with capacity limits, the adjusted case rate would have to drop below 7 percent, and the positivity rate would have to be below 8 percent.
The current positivity rate is 7.8 percent but the current adjusted case rate is 28 percent. n
•••
County COVID Deaths 148
As of Jan. 31
Age
90 and up: 49 • 80 to 89: 49 • 70 to 79: 27 • 60 to 69: 18 • 50 to 59: 1 • 40 to 49: 2 • 30 to 39: 2
Race/Ethnicity
White: 88 • Latinx: 44 • Asian: 12 • Black: 1 • Amer. Indian/Alaskan Native: 1 • Unknown: 2
Underlying Conditions
Yes: 114 • No: 34
Gender
Male: 65 • Female: 83
Skilled Nursing/Residential Care
Santa Cruz Post Acute: 20 • Watsonville Post Acute: 17 • Pacific Coast Manor: 14 • Hearts & Hands Post Acute: 7 • Sunshine Villa: 5 • Maple House 1: 4 • Montecito Manor: 3 • Valley Convalescent: 3 • Aegis: 3 • Watsonville Nursing Center: 3 • De Un Amor: 2 • Dominican Oaks: 2 • Hanover House: 2 • Driftwood: 1 • Maple House II: 1 • Paradise Villa: 1 • Rachelle's Home 1: 1 • Rachelle's Home II: 1 • Westwind: 1
Total: 91
Not at a facility: 57
COVID Cases by Town
Aptos: 651 • Ben Lomond: 88 • Boulder Creek: 124 • Capitola: 366 • Felton: 122 • Freedom: 860 • Santa Cruz: 3,147 • Scotts Valley: 330 • Soquel: 295 • Watsonville: 7,213
Unincorporated: 188
Under investigation: 222
Total: 13,606
Source: Santa Cruz County Public Health
•••
Editor's Note: Would you like to share your family's COVID-19 story? Email Jondi Gumz at [email protected] or call 831-688-7549 x17.
Cover Photo: Sutter Health's drive-through vaccine clinic at the former flea market on Soquel Drive aims to get doses to health-care workers. • Photo Credit: Jondi Gumz
(Visited 141 times, 1 visits today)