COVID-19 Update: March 1, 2021
By Jondi Gumz
Scotts Valley Unified School District will be the first in the county to open hybrid in-person kindergarten and transitional kindergarten classes March 3, almost a year after the contagious COVID-19 closed public school campuses and forced a switch to distance learning.

On Thursday, the 10 school superintendents in Santa Cruz County announced plans to reopen elementary schools for hybrid in-person instruction as active cases fell below 450 and a move is expected from the Purple Tier to the less restrictive Red Tier in a week or two.
Mountain School will open March 8, San Lorenzo Valley and Soquel Union on March 15 and Live Oak March 22. Pajaro Valley plans to reopen April 5.
Additional elementary grades return a week or two later, with high school starting after the county is in the Red Tier. Summer school is being planned, and conversations about high school graduation ceremonies are beginning, though no one knows what the COVID case situation will be like in June.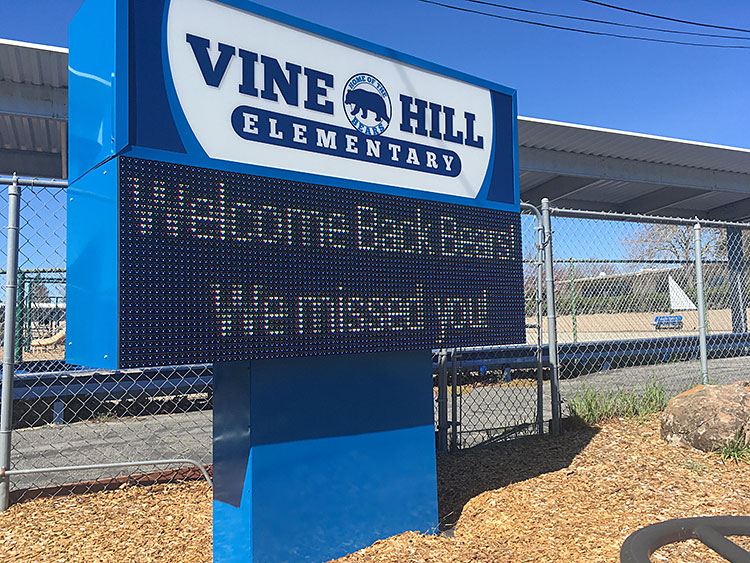 Each day, about half the elementary students will be on campus, to meet the six-foot distance requirement. Schedules will include morning and afternoon cohorts and alternate days, and families can opt for online lessons if they wish.
It's not possible to bring all students on campus at the same time because of the state's six-foot physical distance requirement, Dr. Faris Sabbah, county superintendent of schools, explained. Private schools have done it because their class sizes are smaller so they're able to provide the space.
School reopening in Scotts Valley comes ahead of legislative deal, SB 86 and AB 86, announced March 1 and slated for a vote March 4, with $2 billion in safety grants to reopen transitional kindergarten through second grade by the end of March as part of a $6.6 billion education package. Once in the Red Tier, schools must open all elementary grades plus one grade in middle and high school by April 1 or they will lose 1 percent of their share of the money.
COVID-19 has claimed the lives of more than 52,000 Californians and 183 Santa Cruz County residents, with 55 percent of those local deaths at nursing homes and assisted living facilities. Locally, 80 percent of those who died were age 70 or older and 77 percent had other health conditions.
As of March 1, the number of active cases in Santa Cruz County had dropped below 390, with 16 people hospitalized and two in intensive care, similar to last October before the holiday-related spike, with the number of negative tests topping 116,000.
Safety
To keep students and staff safe at school, there will be surveillance testing, improved air quality with approved purifiers, students assigned to fixed groups, along with face coverings, handwashing, disinfecting and temperature checks to keep anyone who is sick at home.
Sabbah credited Dignity Health Medical Foundation and Dominican Hospital with vaccinating 4,500 teachers and support staff, about 70 percent of staff overall.
Dr. Nanette Mickiewicz, Dominican Hospital president/CEO, said vaccine supplies from the state made it possible to vaccinate Dominican's 1,700 health care workers, first responders and others in the first priority tier, with more supplies coming from Common Spirit, the hospital's parent company, and the county.
She said she met Sabbah at a vaccine clinic in Watsonville for ag workers when he asked her about vaccinating kindergarten teachers. That got the ball rolling.
Dr. Steve Magee, Dignity Health Medical Foundation-Dominican president, reported from the Harbor High School gym, where 27 vaccine clinics have taken place, reaching the target numbers of people age 65 and up.
"We are floating high with excitement," said Diane Morgenstern, Mountain School superintendent/principal. "Like you, we have waited a long time to get to this next phase."
Kris Munro, superintendent of Santa Cruz City Schools, said 1,000 students have been on campus in small cohorts since October, with no COVID transmission from in-person services.
"We feel confident the systems we have in place will keep our students and our staff safe," she said.
Reaching Elders
On Feb. 22, county health officials said more than half of county residents 65 and older have received at least one dose of vaccine, and as of Thursday it was 63 percent.
"It has taken a truly collaborative effort across the community to reach this point," said Mimi Hall, Santa Cruz County Health Services Agency director.
With the 50+ percent target reached, the county is expanding vaccine access to workers in education and childcare, emergency services, and food and agriculture.
County Public Health is asking employers to arrange vaccination clinics for their workers. Eligible employers must fill out a COVID-19 Vaccine Interest Survey at https://bit.ly/2NnFAUA. So far, 500 have done so.
As for people 65 and up who haven't been vaccinated, the county urges them to schedule an appointment now.
For some, that has proven challenging, with a pinned tweet by a major local provider, Sutter Health, saying it doesn't have enough vaccine supplies and advising people to check online for updates.
At the health leaders press conference Feb. 25, county spokesman Jason Hoppin acknowledged the frustration some have felt.
Hard To Get
Checking santacruzhealth.org for vaccine availability one day, CVS in Capitola was fully booked and Walgreens hasn't yet brought vaccine to California. One new pharmacy with vaccine, posted last week, is RiteAid, 1988 Freedom Boulevard in Watsonville.
Kaiser, a big provider locally, was shorted on vaccine by the state, according to Dr. Gail Newel, the county health officer, but has now received more vaccine and is willing to vaccinate people outside its health plan.
The first open appointment online at the county's vaccine clinic, 250 Main St. in Watsonville, was Easter Sunday, April 4, but the online sign-up system required the second appointment to be scheduled at the same time and no appointments were available in May.
Nonprofit Santa Cruz Community Health in Live Oak is willing to accommodate people 65 and up who have had difficulty scheduling an appointment, with staff taking phone numbers, making callbacks and offering to let people know when vaccine is available.
By Friday, the Sutter Health patient portal was providing vaccine appointment dates for Saturday.
Dr. Newel predicted the county will move into the Red Tier, which allows indoor dining and movies to open at 25 percent capacity and gyms to open at 10 percent capacity, in two or three weeks. The state evaluates the numbers on Tuesdays.
For the change, the county needs lower numbers for two weeks. The county's adjusted case rate is 8.6 per 100,000; Red Tier is 7 or below.
Nearby San Mateo and Marin counties were fast-tracked into the Red Tier because of their low equity positivity rates, 3.7 percent and 3.4 percent. Santa Cruz County is 6.3 percent.
Third Vaccine
Dr. David Ghilarducci, Santa Cruz County deputy health officer, is excited about the Johnson & Johnson one-shot vaccine, which was found to reduce moderate to severe COVID infection by 66 percent and doesn't need to be frozen.
"It's 100 percent effective at keeping you out of the hospital," he said. "That's a game-changer."
The federal Food and Drug Administration granted emergency use authorization on Feb. 27, and it could arrive locally this week.
Ghilarducci expects that having a third vaccine in addition to Pfizer's and Moderna's will speed up the likelihood of "herd immunity" in the county, sooner than mid-August, his earlier prediction.
So far, he said, Sutter Health leads in vaccine distribution, with close to 25,000 doses, followed by Dominican, 10,000, and county clinics, 9,000.
"We can expect to get 50 percent more vaccine in coming weeks," Newel said, once the Johnson & Johnson vaccine starts delivery.
In four weeks, with Blue Shield taking over the vaccine distribution from the state, she expects there to be "more supply than we can administer. That will be a happy day."
Newel addressed what she called "myths" about the vaccine,
It does not contain fetal tissue, she said, noting stem cells were used in research but not in the vaccine.
It does not cause infertility or miscarriage, she said, and it doesn't alter DNA.
The side effects are mild, she said, soreness, a bit of fever, chills…very short-lived , a few hours.
To a question about outreach to undocumented workers, Jen Herrera, the county's chief of public health, said public health is working with the county ag commissioner, employers, and Pajaro Valley organizations.
The state's switch to Blue Shield age-based vaccine system March 1 won't have an immediate impact on Santa Cruz County, which is in the third wave, and is scheduled to switch over toward the end of the month.
To schedule a vaccine appointment, visit santacruzhealth.org or sign up at the state website, https://myturn.ca.gov.
To see what business activity is allowed see: www.cdph.ca.gov/Programs/CID/DCDC/CDPH%20Document%20Library/COVID-19/Dimmer-Framework-September_2020.pdf
•••
County COVID Deaths: 183
As of March 1
Age
90 and up: 54 • 80 to 89: 56 • 70 to 79: 36 • 60 to 69: 26 • 50 to 59: 4 • 40 to 49: 3 • 30 to 39: 3
Race/Ethnicity
White: 107 • Latinx: 60 • Asian: 14 • Black: 1 • Amer. Indian/Alaskan Native: 1
Underlying Conditions
Yes: 141 • No: 42
Gender
Male: 83 • Female: 100
Skilled Nursing/Residential Care
Santa Cruz Post Acute: 20 • Watsonville Post Acute: 18 • Pacific Coast Manor: 14 • Hearts & Hands Post Acute: 8 • Sunshine Villa: 7 • Aegis: 4 • Maple House 1: 4 • Valley Convalescent: 4 • Montecito Manor: 3 • Watsonville Nursing Center: 3 • De Un Amor: 2 • Dominican Oaks: 2 • Driftwood: 2 • Hanover House: 2 • Maple House II: 2 • Paradise Villa: 1 • Rachelle's Home 1: 1 • Rachelle's Home II: 1 • Valley Haven: 1 • Westwind: 1
Total: 100
Not at a facility: 83
COVID Cases by Town
Aptos: 701 • Ben Lomond: 103 • Boulder Creek: 133 • Capitola: 406 • Felton: 135 • Freedom: 916 • Santa Cruz: 3,436 • Scotts Valley: 372 • Soquel: 316 • Watsonville: 7,699
Unincorporated: 220 • Under investigation: 234
Total: 14,671
Source: Santa Cruz County Public Health
•••
To view the Town Hall on schools reopening, see: https://santacruzcoe-org.zoom.us/rec/play/yO7rBFlcybygn0c1VMMOuMTcWei9p45cy-AigjmBcdIxh3Bw7CoDcz3H590dZsSQSpWyGYJj028HbZ77.ZfuTRrRE8cmwa6BR?startTime=1614301224000
•••
Editor's Note: Would you like to share your family's COVID-19 story? Email Jondi Gumz at [email protected] or call 831-688-7549 x17.
(Visited 70 times, 1 visits today)