By Jondi Gumz
Santa Cruz County has seen a rapid rise in fentanyl deaths, from 5 in 2019 to 19 in 2020 and 29 last year as of Sept. 30.
"This crisis affects our families, our neighbors, our youth, our friends, and the people of our community," said Dr. Jen Hastings, physician consultant with the Health Improvement Partnership of Santa Cruz County.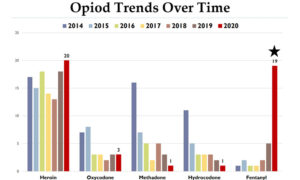 On Monday, April 25, from 6-7 p.m., the public is invited to join a virtual town hall hosted by the Health Improvement Partnership of Santa Cruz County and its SafeRx coalition to discuss local impacts from the national fentanyl overdose crisis. Panelists will share essential information and resources with the community.
"We want to emphasize the importance of having open and honest conversations without stigma, and how our community is coming together to prevent further loss," said Hastings. "Most of all, we want to listen."
In neighboring Santa Clara County, fentanyl deaths have soared from 27 in 2019 to 86 in 2020 and 131 in 2021.
Overdose drug deaths increased nearly 30 percent during the year ending in April 2021, according to the U.S. Centers for Disease Control and Prevention, with an increasing number of those deaths attributable to synthetic opioids such as fentanyl.
Lace Price, 16, of Santa Cruz, died of a fentanyl overdose Nov. 12 at a house in Corralitos, and her parents, Michael and Jill Price, claim law enforcement failed to treat the premises as a possible crime scene, according to NBC Bay Area News.
As the case involves a minor, the Sheriff's Office will not be commenting on specific cases, according to Sheriff's Office spokeswoman Ashley Keehn.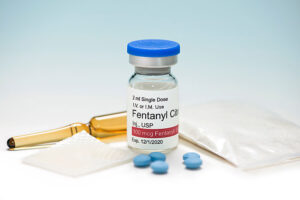 A pain-killer, fentanyl is prescribed after a surgery, but it is also sold on the street.
Fentanyl is extremely deadly, up to 100 times more potent than morphine, according to the Safe Rx coalition.
Just a tiny amount is able to kill, yet people selling drugs such as heroin, cocaine, meth and MDMA (Ecstasy) add fentanyl, boosting their potential sales, as fentanyl is cheap to make in a lab.
When people overdose on fentanyl, their breathing can slow or stop. Naloxone can treat a fentanyl overdose, but multiple doses may be needed.
Service providers in Santa Cruz County include Salud Para La Gente, Encompass, Janus of Santa Cruz, Pajaro Valley Prevention and Student Assistance and Santa Cruz Community Health.
And the Santa Cruz Safe Rx coalition is active on Facebook.
With 29 fentanyl deaths in 9 months, that means a fatality every other week.
What's unclear from the data made available is how many overdose fatalities are in unincorporated areas compared to the four city jurisdictions, Capitola, Watsonville, Santa Cruz, and Scotts Valley.
Asked about the impact of these overdoses at the Sheriff's Office, Keehn said, "With any 911 call where there is a suspected overdose, our deputies and any other agency responding knows seconds matter and can mean the difference between life and death. Deputies do carry naloxone with them if they're the first to arrive on scene before paramedics, but we also encourage people who do make the decision to use any type of narcotics to have it in their possession too. We've seen different types of narcotics laced with fentanyl, so even if you are not intending to use it, it is a risk."
She added, "There are some calls where deputies are able to revive someone experiencing an overdose and save their life, but there are calls where it's too late, and any death can take a toll on those responding. Thankfully, we do have a peer support team here at the Sheriff's Office made up of deputies, corrections staff and professional staff to help deputies or correctional officers after a tough, emotional or hard call. The peer support team will make efforts to reach out to the individuals who responded rather than waiting for those people to reach out to them."
Panel members representing various sectors of the county will answer questions, listen and gather feedback from the community, which will inform strategies and next steps.
Join in 6-7 p.m. April 25 at https://tinyurl.com/scfentanyltownhall. Simultaneous Spanish translation will be available. A recording will be posted afterward on the SafeRx website.
(Visited 108 times, 1 visits today)