By Edita McQuary
Many of us in the community either know, or know of, the Lapp Family.
Jim Lapp is the pastor of St. Stephen's Lutheran Church in Santa Cruz.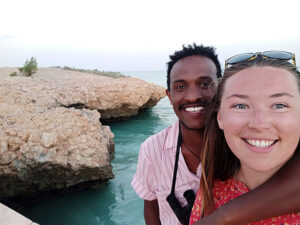 In 2018 he led his congregation to donate church land and to partner with local government and Wells Fargo Bank in building a senior living community on their church property.
His wife, Leslie Lapp, is the church administrator at St. Stephen's. Leslie was in the local news last year when she was hit by a truck while walking their dog. With lots of prayers and by a miracle, she survived.
Their daughter, Rachel, flew back from her Peace Corps work in Ethiopia to help her mother in the recovery. Leslie is now back to work but is still undergoing physical therapy.
A graduate of California Lutheran University, Rachel has volunteered on mission trips to Central America and Africa. Since 2019, she has been with the U.S. Peace Corps in Ethiopia. She met and married Ethiopian national Dawit Yerdea in early 2021 but in February 2021 had to leave her husband behind to come back to care for her mother.
She found out she was pregnant when she got back to the U.S. and their daughter, Zellie, was born on Nov. 11, 2021.
Dawit had applied for the CR1 spousal visa to come to the U.S. and he was good to go, except for the final, perfunctory interview. Due to the civil war in Ethiopia, the U.S. Embassy there recalled non-essential employees to the U.S. and cancelled all visa interviews, leaving Dawit and others in limbo.
Family friend Ron Dwyer-Voss says, "The U.S. Embassy in Zambia had agreed to take this case from the U.S. Embassy in Ethiopia and will schedule an interview once the case has been officially transferred. Mr. Yerdea can safely travel there to complete the process, however, the U.S. Embassy in Ethiopia is not responding to our requests to transfer his CR1 spousal visa application file to the U.S. Embassy in Zambia. But so far this has not been done."
Pease take a few minutes and call California Representative Jimmy Panetta, Senator Dianne Feinstein, and our Secretary of State Antony Blinken and ask them to help in this family reunification matter.
•••
Rep. Jimmy Panetta: 831-429-1976 or 202-225-2861.
Senator Dianne Feinstein, San Francisco: 415-393-0707.
The Honorable Antony J. Blinken, Secretary of State: 202-647-6575 or 917-710-1946 or email [email protected].
If you would like further information or a sample letter that can be sent, email [email protected].
Top Photo: Rachel Lapp and her husband Dawit Yerdea on their wedding day.
(Visited 183 times, 1 visits today)