By Jondi Gumz
With 153,000 doses of COVID-19 vaccine administered and new cases down to levels of last June, Santa Cruz County moved into the Orange Tier on March 31, allowing businesses to expand operations after three weeks of restrictions.
Restaurants, movie theaters and museums and places of worship can operate at 50 percent capacity and retail stores can operate at full capacity — no lines to get into the grocery.
Wineries can operate indoors at 25 percent or 100 people, whichever is fewer.
Gyms and fitness centers can increase indoor capacity to 25 percent; yoga and dance studios can open indoors at 25 percent capacity. Indoor pools, climbing gyms, and bowling alleys can open.
Breweries and bars can open outdoors.
Live-audience events can be staged outdoors at 33 percent capacity, and the Scotts Valley Chamber of commerce announces plans to host the Art & Wine Festival Aug. 21-22.
The Santa Cruz Beach Boardwalk plans to reopen rides April 1 under state guidelines allowing any California visitors at amusement parks with capacity at 25 percent.
As of June 1, the state will allow overnight sleepaway camps, another return to normalcy.
Desk Spacing Survey
On March 24, Scotts Valley Superintendent Tanya Krause posted to say parents will be surveyed after spring break on the new federal and state guidance saying three feet distance between desks provides protection. The three-foot change is only for classrooms and only between students, she noted.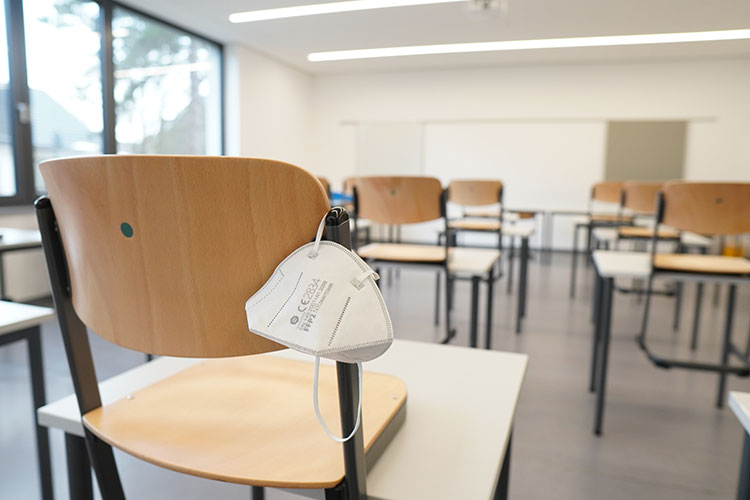 The previous six-foot requirement is the reason public schools in Scotts Valley and across the county adopted hybrid schedules, bringing half the students to campus on alternating days. Private schools, with smaller class sizes, had the space but public schools' didn't.
Research is scanty on how much distance is protective and Indiana changed its requirement to three feet, in line with the World Health Organization guidance. An MIT study this summer concluded distancing rules are based on outdated science and factors such as ventilation and occupancy and exposure time made a difference.
In a March 24 letter to parents, all of the local school superintendents said switching from a hybrid schedule to full reopening "would require vast environmental changes to classrooms and redesign of our instructional programs," with some conditions requiring negotiating with bargaining units.
The letter added, "However, we are confident that as long as community transmission of COVID-19 remains low, all public schools in Santa Cruz County will be fully open for in-person instruction in the fall 2021."
High school cross country teams, following safety protocols, were the first to complete their season — and it was COVID-free.
On March 26, the state announced guidelines to graduation ceremonies, something parents have been awaiting eagerly.
The Orange Tier allows youth and adults to play football, basketball, water polo and soccer outside and participate in gymnastics, and singles pickleball and tennis indoors.
Economy Reopening
The potential for economic turnaround is huge.
Cabrillo College in Aptos is getting $16 million in federal COVID relief in the $1.9 trillion package signed by President Biden.
The city of Scotts Valley is getting $2.2 million with millions more going to the county, Watsonville Santa Cruz and Capitola.
The aid package includes $25 billion for restaurants with grants to be awarded by the federal Small Business Administration, $7.25 billion for the Paycheck Protection Program forgivable loans for small business and nonprofits applying through a bank, $15 billion in targeted Economic Injury Disaster Loan advance grants through the SBA, and $16 billion in grants to shuttered entertainment venues, also through SBA.
From mid-November to mid-March, the pandemic kept restaurants, gyms and movie theaters from opening indoors, eliminating thousands of jobs and sending unemployment up to 8.4 percent.
The move to the Orange Tier came as Santa Cruz County Health Officer Dr. Gail Newel Newel had predicted with the spread of the contagious coronavirus slowed to a trickle.
The adjusted case rate has fallen to 2 per day per 100,000 people with the test positivity rate down to .8 percent. If the case rate is below 1 per day per 100,000 people, the county would qualify for the Yellow Tier, which has fewer restrictions.
CineLux Scotts Valley, which upgraded ventilation and added seat spacing, started showing movies March 26.
The Seymour Center in Santa Cruz announced in-person Ocean Explorers summer camp for kids, with applications due April 7. Santa Cruz Shakespeare plans a small outdoor live season in July and August. Arts Council Santa Cruz County plans to resume Open Studios in October.
Family members can visit loved ones at nursing homes and assisted living centers after a year of being apart to keep the contagious coronavirus from spreading.
COVID-19 has claimed the lives of 57,900 Californians.
Deaths in Santa Cruz County have plateaued at 200, with 51 percent of deaths at nursing homes and assisted living facilities. Locally, 79 percent of those who died were age 70 or older and 78 percent had other health conditions.
A year after the pandemic began, with 18 million vaccine does administered and case rates plummeting, 36 counties are in the Red Tier and 17 in the Orange Tier.
Two cases of the B117 variant, which spreads more easily, were reported in January and February but Newel said a surge forecasted for March and April due to variants is unlikely.
On Wednesday, the county reported only two people hospitalized with COVID, including one in intensive care, only 188 active cases, and 123,000 negative test results.
With 153,000 doses given to county residents, that's more than half of the population.
The state required 70 percent of doses go to people age 65 and up who are at greater risk of dying, 30 percent to people in riskier jobs – and 10 percent set aside for educational and child care workers.
Newel urged everyone to get a vaccine once they are eligible and in the meantime, wear masks and practice social distancing in public so as to protect unvaccinated elders and those who are medically vulnerable.
Vaccine Signup
Anyone who wants a vaccine appointment is advised to register at MyTurn.ca.gov, the new app, but there is no guarantee of an appointment as the state keeps expanding eligibility ahead of vaccine supplies.
As of April 1, people age 50 and up will be eligible to make an appointment.
Starting April 15, anyone 16 and older will be eligible.
With the one-dose Johnson & Johnson vaccine now being delivered along with the two-shot Pfizer or Moderna vaccines, the supply picture is expected to improve.
One new option is Kaiser Permanente's vaccine clinic at the Kaiser Arena in Santa Cruz, which gives members priority but allows non-members to register.
To check availability at CVS, RiteAid and Walgreens, visit santacruzhealth.org and click on the vaccine button. n
•••
County COVID Deaths 200
As of March 31
Age
90 and up: 55 • 80 to 89: 61 • 70 to 79: 42 • 60 to 69: 27 • 50 to 59: 5 • 40 to 49: 6 • 30 to 39: 4
Race/Ethnicity
White: 111 • Latinx: 72 • Asian: 15 • Black: 1 • Amer. Indian/Alaskan Native: 1
Underlying Conditions
Yes: 155 • No: 45
Gender
Male: 97 • Female: 103
Skilled Nursing/Residential Care
Santa Cruz Post Acute: 20 • Watsonville Post Acute: 18 • Pacific Coast Manor: 14 • Hearts & Hands Post Acute: 8 • Sunshine Villa: 7 • Aegis: 4 • Maple House 1: 4 • Valley Convalescent: 4 • Watsonville Nursing Center: 4 • Montecito Manor: 3 • De Un Amor: 2 • Dominican Oaks: 2 • Driftwood: 2 • Hanover House: 2 • Maple House II: 2 • Rachelle's Home 1: 2 • Paradise Villa: 1 • Rachelle's Home II: 1 • Valley Haven: 1 • Westwind: 1
Total: 102
Not at a facility: 98
COVID Cases by Town
Aptos: 763 • Ben Lomond: 111 • Boulder Creek: 141 • Capitola: 435 • Felton: 144 • Freedom: 956 • Santa Cruz: 3,654 • Scotts Valley: 408 • Soquel: 342 • Watsonville: 7,927
Unincorporated: 245 • Under investigation: 237
Total: 15,363
Source: Santa Cruz County Public Health
•••
For details on what can open in the Orange Tier, see covid19.ca.gov/safer-economy.
Editor's Note: Would you like to share your family's COVID-19 story? Email Jondi Gumz at [email protected] or call 831-688-7549 x17.
(Visited 16 times, 1 visits today)