Story and Photos By Kieran Kelly
This month, local leaders, parents, and community members gathered on the Santa Cruz County courthouse steps to celebrate the County's first-ever national champion youth sports team.
In December 2021, the Santa Cruz Seahawks, a Pop Warner youth football team for ages 12 and under, steamrolled their opponents on their way to winning the 64th Pop Warner Super Bowl Championships at Camping World Stadium in Orlando, Florida.
"When people think of Santa Cruz, they think of surfing and maybe soccer, but we have some great football players that come from this area, many of whom have come through our program, and I'm just glad we could put Santa Cruz on the map for football," said head coach Jake Clark, who lives in Aptos.
Santa Cruz County Supervisor Zach Friend presented proclamations to the players and officially declared March 4, 2022, as "Santa Cruz Seahawks Day" in Santa Cruz County.
"You are always going to be national champions and you did it at an age that proves you have a lot more to accomplish. This community is always going to be proud of you," said Supervisor Friend. The young champs beamed with pride at their collective achievement.
The Seahawks went undefeated this season to earn a ticket to the Pop Warner Super Bowl Championships.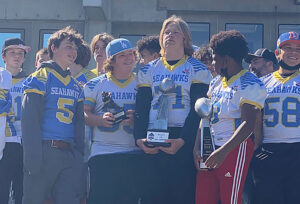 In their first game against the Danbury Trojans from Connecticut, the Santa Cruz kids put together a convincing 31-6 victory. They quickly followed up by beating the Westlake Chaps of Texas 33-6. In the final game, the Seahawks prevailed 28-8 over the Port Charlotte Bandits out of Florida — a dominant victory.
The Seahawks have set a high standard of success for the club with an intimidating record of 38-1 over the past three seasons.
However, the road to Orlando was not easy.
In addition to winning all their games this season, the nonprofit club had to raise $62,000 to cover the team's travel expenses. All of the coaches are unpaid volunteers who donate countless hours of their time to the team.
The Seahawks' victory is even more impressive when you consider they also had to overcome injuries and the lack of a dedicated practice space.
"The most adversity we faced was a couple of injuries to some of our best players. They were there to support us in Florida, but unfortunately weren't able to play," Coach Clark said. "Additionally, toward the end of the season we basically had no field to practice at. We had to try and find small pieces of fields at high schools around the county."
Despite these challenges, the Seahawks have a tight bond that comes from several years of playing together and a dedicated support network of parents and volunteers.
"My team is family, I have played football with some of these guys since I was 6 years old. We are all like brothers, which is different from any other sport," said team co-captain Kelton Forbus. "We do things together and practice and play and work out like no other sport, which makes us so close. This is what makes our team special. We never stopped and that's why we are National Champions."
As for next year's championships?
"I don't hope, I know I will be back in Florida to defend our National championship," said Forbus. "I want to go out there and compete and play 'Cali football.'"
For those interested in supporting the Santa Cruz Seahawks, there are multiple ways to help out including donating your time as a volunteer or by donating financially.
"We are a nonprofit, none of our coaches are paid," said Coach Clark. "It costs a lot to run this league, and make sure kids can play the game they love safely."
Visit www.scpopwarner.com to get involved.
(Visited 118 times, 1 visits today)