By Bruce McPherson, Supervisor, Fifth District
At the end of last month's column, I wrote that "2023 would no doubt bring new challenges and opportunities." What none of us could have imagined was how quickly those challenges would present themselves in the new year.
The series of atmospheric rivers that pounded Santa Cruz County starting in late December and continuing through mid-January wreaked havoc on the San Lorenzo Valley, causing slides that blocked Highway 9 in Boulder Creek and Ben Lomond, as well as slip-outs that partially closed Bear Creek Road and other sites. Felton Grove and other low-lying areas were heavily flooded. And with trees down and power out throughout the Valley for many days in some areas, life has been undeniably difficult.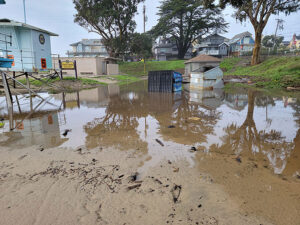 Here's what the County has been doing to help our community begin the recovery process. First, our roads crews have been working tirelessly to get our County-maintained roads open, including one lane around the big slip-out on Bear Creek Road.
We also have been working to connect residents who live on private roads with potential forms of assistance while coordinating with Caltrans and our Sheriff's Office to address the impacts of the Highway 9 closures, including establishing traffic control measures on Glen Arbor Road.
Meanwhile, the County has set up Disaster Recovery Centers at the Felton Branch Library and Ramsay Park in Watsonville, as well as a Small Business Administration Recovery Center in Capitola. We have also placed public dumpsters for disaster clean-up in Paradise Park, Felton Grove and downtown Ben Lomond for storm survivors.
As part of the transition into recovery, the Board of Supervisors directed County staff on Tuesday, Jan. 31, to bring back an amended contract with 4Leaf, Inc. to add storm rebuilding to the company's scope of work.
We hired the consultant on a three-year contract after the CZU Fire in 2020 to expedite rebuilding in the San Lorenzo Valley and North Coast.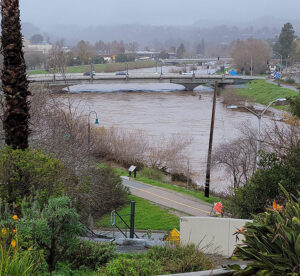 Considering District 5 was hardest hit by the recent storms and is still recovering from the fire, I put forward additional direction Tuesday designed to ensure the storm-related permitting process doesn't negatively impact ongoing fire recovery.
The direction was for our staff to evaluate the status of nearly 600 CZU properties that have not yet picked up or sought permits or for whom permits are in process.
Also, my new colleague, District 3 Supervisor Justin Cummings, received Board approval for the County to designate County staff to help resolve disputes between 4Leaf and constituents.
In order for the community to learn more about storm recovery, I also want to highlight two countywide virtual meetings.
The County will address rebuilding efforts at 6:30 p.m. on Tuesday, Feb. 7, and by the time this article is published, will have provided an update on County-maintained roads on Feb. 2.
The Zoom links and videos for both will be posted on the website for the County's Office of Response, Recovery and Resilience (OR3) — www.co.santa-cruz.ca.us/OR3/Emergency.aspx.
The site also contains a great deal of other disaster recovery resources, including information on how individuals and businesses can apply for federal support.
Lastly, I'd like to acknowledge the community's deep grief and shock over the shooting death in Boulder Creek on Jan. 28 of 18-year-old Rowan Parham, and to assure his family and fellow students that our hearts are with them at this difficult time.
Although neither the victim nor the suspect attended San Lorenzo Valley schools, it's my understanding both were known to Valley youth, who will need the community's ongoing support to cope with this tragedy.
•••
As always, if my office can be of assistance, please contact us at [email protected] or 831-454-2200.
Photos Credit: Alisha Walton
(Visited 137 times, 1 visits today)