"Hunger Hero" is the name for the incredible range of county residents of all ages, inventing ideas and investing time raising donations for Second Harvest Food Bank and its 80+ food distribution partners. They make the annual Holiday Food & Fund Drive, Nov. 4 to Jan. 15, an annual success.
Heroes raise more than half of the food Second Harvest provides through the year for food-insecure families in our county.  One hundred percent of Holiday Food & Fund Drive funds are feeding hope for local community members, no money raised goes to administration or overhead.
Who Are Our Hunger Heroes?
There are so many. Here's a small sampling.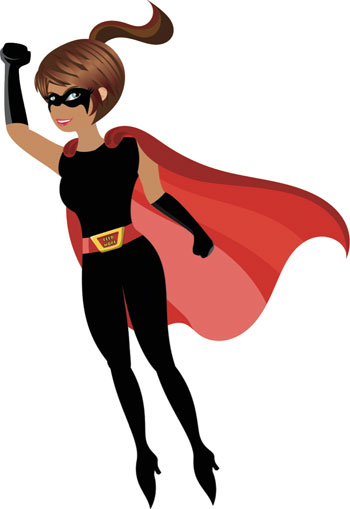 "Second Harvest Food Bank has always been our favorite to donate to," says Robin Berkery, owner of Jazzercise Santa Cruz and Aptos. "Our community feels there is no better way of donating to this wonderful cause than through a workout program. Last year we began selling virtual raffle tickets in exchange for food bank donations. People win prizes for local businesses like restaurants, massages, art, and wine. Our goal this year is beating last year's record of $7,000."
Feeding hope and nurturing empathy, Mount Madonna School's second grade Hunger Heroes are leading their community's food and fund drive. Guided by their teacher, students connect with preschool through 12th grade peers, asking school families, teachers, staff, and friends to help feed hungry people.
See the students' Second Harvest donation page: https://give.thefoodbank.org/teams/16653-mount-madonna-school.
At the other end of the education spectrum, the UC Santa Cruz community has created a donation page at https://give.thefoodbank.org/teams/16440-uc-santa-cruz. Each year the university community runs a contribution campaign donating tens of thousands of dollars to this year's drive.
"UC Santa Cruz is fully engaged in campus-wide support of the Holiday Food and Fund Drive — our Chancellor is also chair of the county-wide effort this year," points out Nathan McCall, manager, HR Business Information Services at UCSC.
The drive "allows the rare opportunity for the whole university community of students, staff, faculty, and retirees to engage in one effort," he says. "In fact, a contingent of student leaders, employees, and retirees recently volunteered at Second Harvest to pack food for families."
Alexander Pedersen, founder of Blue Circle and a Second Harvest Food Bank board member, is pledging to run a mile for every ten dollars donated. So far, he's helped raise more than $800. To learn more about Blue Circle or to donate to his campaign, visit www.bluecircleusa.org.
Sequoia Wealth Advisors in Aptos and San Jose, is a sponsor of this year's Holiday Food & Fund Drive and major corporate sponsor for many food bank events, including the Chef's Dinner. The company has engaged clients, staff and the community in fundraising.
"Our reasons for supporting Second Harvest are many," says Kristina Kuprina, company president. "Increased financial pressure is amplifying food insecurity in our area. And no one should have to choose between food and other essential needs."
For the students at Santa Cruz Montessori in Aptos, their effort started with a news story showing mile-long lines for food banks around the country during the Covid-19 pandemic.
Teacher Kristin Tosello shared this news with her 4th, 5th, and 6th graders. She streamed videos from Second Harvest Food Bank explaining that one in three people and one in two children in Santa Cruz County face food insecurity.
Her students were shocked by the number of hungry people in their own community. But rather than feeling helpless, they organized a walkathon with a goal of $2,250, equal to 9,000 meals. Before they began walking, they surpassed this goal.
On the day of the walkathon, 17 students walked to Cabrillo College spending three hours at the track. One student racked up an amazing 12 miles. Each student walked more than 5.75 miles.
"After a while it started getting a bit tiring, but we reminded ourselves of our cause and walked on," a student said.
The result? They raised 26,168 meals and learned a valuable lesson — every step counts.
Others organized rummage sales and bake sales, employee raffles and online auctions, and some converted their personal time off to donations. Generous musicians in a band donated the proceeds from their performance.
From surfers, cyclists, paddleboarders and joggers to firefighters, law enforcement and the faith community, our county unites around the Holiday Food & Fund Drive.
It's impossible to acknowledge all the Hunger Heroes making a difference for so many this year. This story celebrates them all.
•••
Become a Hunger Hero
Second Harvest is supporting about 50 percent more people this year compared to previous year averages. Participating in the 2021 Holiday Food and Fund Drive is easy for individuals, organizations, or businesses. Contact — [email protected] or visit www.thefoodbank.org/hero to order a 'Mini Collection Barrel' for cash collection.
Nominate a Hunger Hero
Second Harvest is looking for all the hunger heroes. Nominees may be educators, advocates for food policy change or volunteers who use their time, energy, or resources to help fight hunger in our county. The Hunger Fighter of the Year is recognized at the annual Awards Dinner in March. Nomination deadllne is Jan. 7.
Top Photo: Mount Madonna School second graders.
(Visited 95 times, 1 visits today)