The First District office has been busy over the last month, working on issues that affect you and your neighborhood. Here are a few highlights:
Portola Drive Pop-Up
On June 25 opening day festivities for the Portola Drive pop-up project were held in the lot next to Back in Shape Chiropractic on Portola Drive.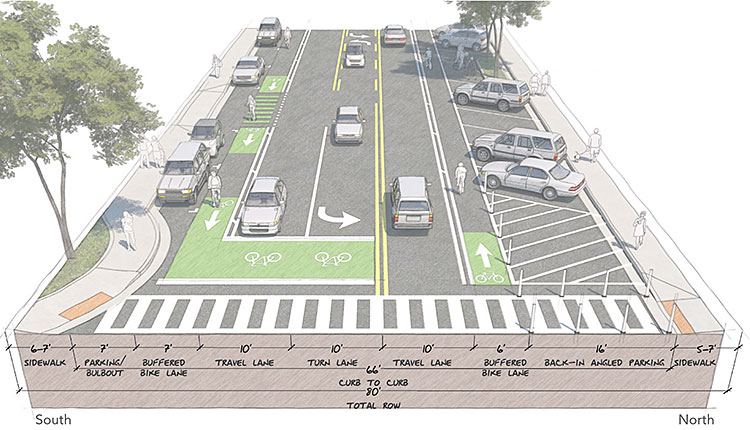 We were excited to kick off the project, and together we enjoyed pizza, and the opportunity to try out the temporary pedestrian improvements and protected bike lanes.
The Portola Drive installation is based on the concepts of the Portola Drive Streetscape Study, but tests a different design for bicycle facilities. The Portola Drive Streetscape Study includes buffered bike lanes, which have a painted buffer between the bike lane and motor vehicle lane, but the pop-up project tests separated bikeways — which have been shown to reduce collisions and increase bike ridership.
Separated bikeways are separated from the motor vehicle lane by parked cars, planters, curbs, or other barriers.
One of the primary goals of the temporary installation is to gather community feedback on whether separated bikeways should be included in any permanent project for Portola Drive.
Come out to Portola Drive between 36th and 41st Avenues from June 25 to July 21 to view and test the design concept for this area.
The Portola Drive Streetscape Study is still the plan for the corridor, but feedback from the installation will be used to make design decisions for the future permanent project.
After you've tried out the installation, provide feedback to help shape the final project by taking the survey at: https://ecoact.org/poweredbyme/.
Proposed Kaiser Building Draft EIR Released
A major 1st District project took a step forward last month with the release of the draft Environmental Impact Report for the proposed Kaiser medical office building and parking garage at 5940 Soquel Ave., Santa Cruz.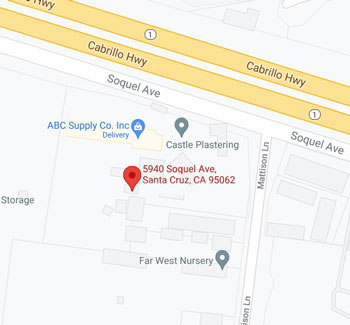 Proposed for this site is a new four-story medical office building, providing approximately 160,000 square feet of medical office use for specialty outpatient services, including advanced medical and urgent care clinics and outpatient surgery facilities. The project also proposes the construction of a four-story parking garage, providing 730 new vehicle parking spaces, including approximately 47 charging stations for electric vehicles, and bike lockers. A new driveway would be constructed from Soquel Avenue that facilitates circulation between the medical office building and parking garage, and a separate driveway for service vehicles would also be constructed.
Significant public works and street frontage improvements along Soquel Avenue are planned to occur alongside this project. New pedestrian sidewalks and bicycle facilities are proposed, as well as potential off-site intersection improvements. The proposed project will include on-site and off-site utility and drainage improvements, including new 8-inch sanitary sewer, 8-inch fire, and 4-inch domestic water lines, as well as a new stormwater outfall that would be constructed along Rodeo Creek Gulch.
Public comment is open until Aug. 9. You can view the draft EIR and appendices on the County's CEQA website: CEQA Documents Open for Public Review (sccoplanning.com), scroll down to "Medical Office Building Project." You can also submit comments through the same website.
There is a hard copy available at the Planning Counter, 701 Ocean St., fourth floor, for any one who prefers paper. Copies will also be available at the Porter and Live Oak libraries, once the libraries are again open for public browsing.
Upon the close of the public comment period on Aug. 9, the final EIR will be produced. The project will then head into the public hearing and approval phase.
We anticipate it will be heard at the Planning Commission in November, and the Board of Supervisors in December or January. This is a major development for the 1st District. If you want to share your opinion on this important project, public comment is now open!
2021 Measure D Projects
This last month, the Department of Public Works released a revised Measure D schedule for the 2021 project locations. For the most up-to-date information on Measure D projects, visit scmeasured.blogspot.com.
Please see the posted signs in the project areas for most up-to-date schedule information. Any questions regarding the schedule or projects should be directed to Mark Christensen, (831) 477-3962, [email protected], or Sal Duran, Teichert Construction, (510) 789-8807, [email protected]
Rental Assistance is Still Available!
Santa Cruz County still has millions of dollars available to help people pay rent for financial hardship due to COVID-19. Renters and landlords can apply through the state's Housing is Key program for assistance for past due and future payments. To apply, visit Housing Is Key (ca.gov).
Please share this information with anyone you know who may need assistance.
If you need help with the application, call Community Bridges at the Live Oak Family Resource Center, (831) 476-7284, 1740 17th Ave, Santa Cruz, 95062.
•••
We invite you to share your feedback on these issues and others. Email us at [email protected], and join us for constituent meetings, held every Monday evening prior to Board of Supervisors meetings. Visit District 1 (santa-cruz.ca.us) for a complete list of upcoming constituent meetings.  
(Visited 81 times, 1 visits today)